Here's Why Ford Is in No Hurry to Construct More U.S. Factories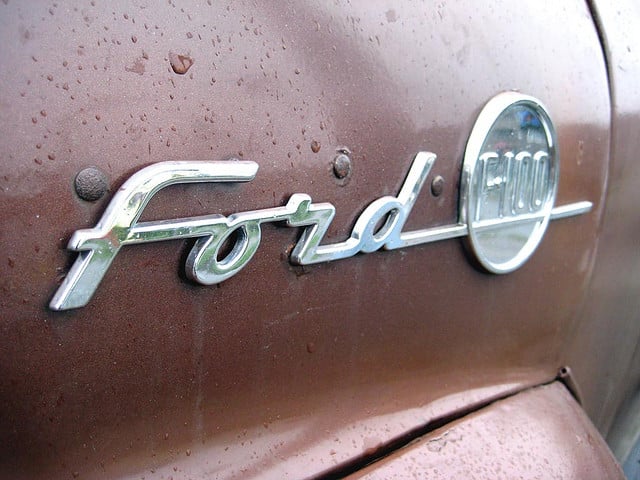 Haunted by memories of a 2008-2009 recession when Ford Motor Co. (NYSE:F) was forced to close vacant plants and cut workers' jobs, the U.S. automaker is now implementing new production strategies as it expands its output in North America, doing so without building more factories.
Along with General Motors Co. (NYSE:GM), Ford has effectively been able to resurrect success since its bankruptcy blunders and has proven it is back on the fast track to fortune. As the Dearborn, Michigan-based car manufacturer continues to churn out more popular vehicles like the Fusion and Escape to help meet demand, it recognizes the need to increase its factories' vehicle-making capacity by adding shifts and changing traditional work patterns.
Luckily, that means good things for automobile workers. Ford has already added 8,000 employees to its work force over the past year, and its increased production will now demand that it adds even more.
According to The Wall Street Journal, while Ford's old strategy involved the construction of new plants every time it needed to increase production, its past nightmares have encouraged it to adopt a different approach, one that includes building multiple products at each plant, thus running several shifts with different crew members. This technique, allows transmission casings for the Ford Fusion, Escape, and Flex to all be produced at the same plant, though workers there will work 12 hours per day instead of eight.
Ford Vice President of North America Manufacturing James Tetreault explained at an annual automobile conference, reported by The Wall Street Journal, that: "We are running plants at three shifts, three crews and we are building multiple products in every plant. The old model was that every plant was a single model plant. We would staff for the peak and when the peak passed we reduced overtime and put people in a jobs bank. Employees were at that time were a steady fixed cost."
Still, while it may be more efficient, the automaker's new strategy definitely isn't easy. Ford reports that its factories are running close to 153 hours per week, and employees are forced to work through the night — but the automaker feels the payoff is worth it. But workers, too, don't seem to be complaining, as the status of their jobs is now a lot less precarious. That alone seems to boost their willingness to work longer and more untraditional hours.
Other U.S. automakers like Chrysler Group LLC have also adopted similar approaches, investing more money into their current factories to help boost production rather than sinking that money into the construction of additional factories. This new phenomenon demonstrates that Chrysler, GM, and Ford would all rather increase the vehicle capacity of their present factories rather than running the risk of constructing more and having to then shut those down in the future.
So while it is evident that all three companies have managed to work their way out of the mud that trapped them during the recession, this extra caution once again illustrates that while those bankruptcy blunders may be over, they're far from forgotten.
Here's how shares of Ford traded this week: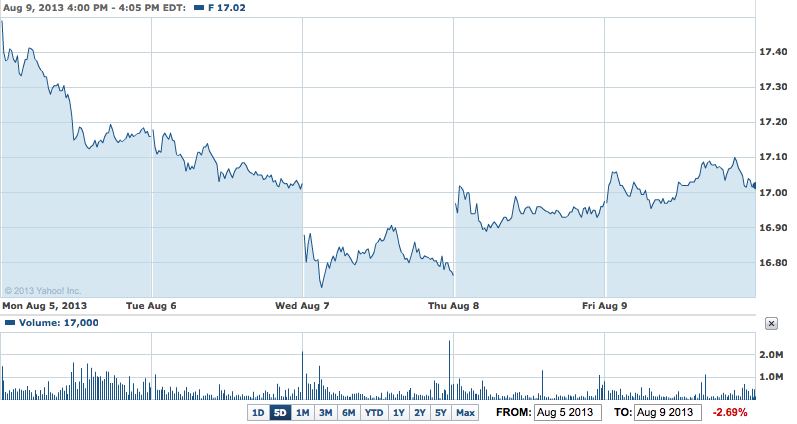 Don't Miss: 9 Great Cars for the Concrete Jungle.