Here's Why Ford Is Wheeling Back 33,000 C-Max Hybrids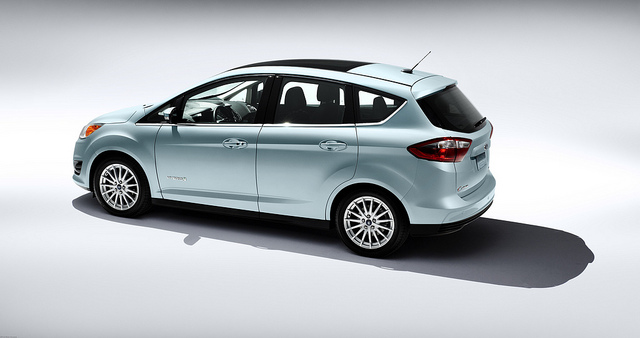 Down goes the hybrid.
Just after counting down the six hybrids Ford Motor Co. (NYSE:F) could thank for its happy second-quarter earnings report, it seems as though we spoke too soon — No. 3 on that list was the U.S. automaker's C-Max hybrid, and now, 33,021 of those cars have been recalled, according to Automotive News.
The large-scale recall was brought on by roofing problems the National Highway Traffic Safety Administration uncovered while conducting safety tests. The organization found that components of the vehicle's roof were not meeting safety guidelines that ensured the roof protected passengers' heads against harm. Though no accidents or injuries have been attributed to the issue, the automaker is planning on upping the safety of its car by positioning "plastic energy-absorbing material" under the roof on both sides.
The recall comes just as the U.S. automaker was witnessing an increased demand for its C-Max Hybrid in parts of the U.S. with inhabitants who traditionally gravitate toward foreign automakers like Toyota Motor Corp. (NYSE:TM) to meet their motor needs.
But now, more East and West Coast customers are giving Ford's hybrids a chance, and the C-Max, built between January 2012 and June 26 in Michigan, is becoming many drivers' ride of choice. A recent report showed demand for the Fusion and C-Max hybrid vehicles has increased more than 1,000 percent in New York, 840 percent in Chicago, and close to 500 percent in Washington, D.C., and that more than 60 percent of U.S. customers are coming from non-Ford brands.
This recall, then, proves to be a setback for Ford just when it seemed as though the company was on its way to significant hybrid success; it also follows in the footsteps of other summer vehicle pullbacks. Earlier this month, Ford was forced to announce the recall of 972 of its diesel-engine EcoSport SUVs two weeks after the vehicle's launch. The U.S. car manufacturer reported that it found a potential concern with the positioning of a Glow Plug module in the SUV that could lead to problems starting the vehicle's diesel engine.
Luckily, Ford isn't the only U.S. automaker — or automaker in general — feeling the effects of large-scale recalls. Last week, General Motors Co. (NYSE:GM), too, reported a pullback of 114,000 of its Chevrolet Tavera vehicles in India due to problems involving emission standards and meeting government specifications.