Here's Why Investors Are Betting on Tesla's Tech Prowess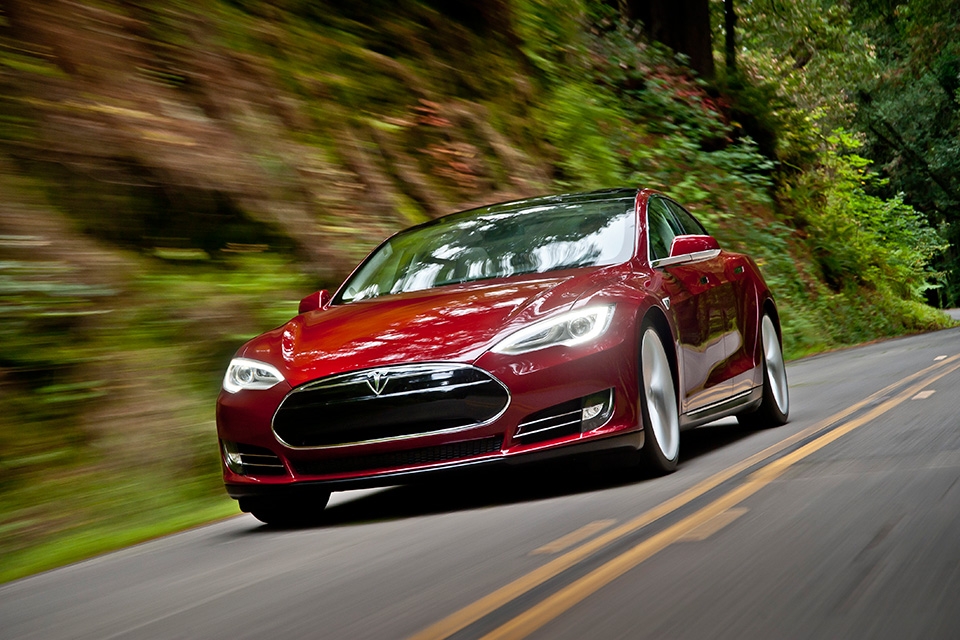 With a market capitalization of $20 billion, shareholders are valuing Tesla (NASDAQ:TSLA) more like a technology company than an automaker.
There is some reason for their enthusiasm. Sales have been great in California, the company's home base and the largest U.S auto market. The California New Car Dealers Association on Monday reported sales results for the first six months of 2013, and Tesla's Model S was the third-best selling luxury sedan after Daimler's (DDAIF.PK) Mercedes-Benz E Class and BMW's 5 Series models. In fact, this particular piece of news sent shares of the electric vehicle manufacturer to a new all-time high of $173. When the company's stock price surged past $172.75 during that rally, its market capitalization hit $20 billion.
"Justified or not, the expectations for this company are now very high," Baum & Associates automobile analyst Alan Baum told Bloomberg. He likened the electric vehicle manufacturer to Apple (NASDAQ:AAPL), saying the company has "managed to cross the automotive and technology fields to become this hot commodity."
Especially compared with 2012, when the company was missing production target after production target, 2013 has been a banner year for Tesla. The Model S has been hit with several accolades: Motor Trend declared the electric vehicle its 2013 Car of the Year, Consumer Reports gave the vehicle a near-perfect score of 99 out of 100, and the National Highway Traffic Safety Administration gave Model S a 5-star crash safety rating this month.
These awards have contributed to Tesla's standing in both the automotive world and the technology world, and the growing reputation of the Model S has no doubt boosted its sales. That Tesla's luxury electric vehicle — the Model S Sedan — has become popular with the affluent and the environmentally conscious is clear from the numbers.
The company sold 5,150 cars in the second quarter, or approximately 1,700 per month, a figure comparable to the sales of its top plug-in rivals, the Nissan (NSANY.PK) Leaf and General Motors's (NYSE:GM) Chevy Volt. That sales figure not only puts the company well on its way to achieving its target of 20,000 deliveries for 2013 but also contributed to the automaker's surprisingly strong second-quarter results.
Of course, there are issues the company must still work out. There are nowhere near enough charging stations to support Tesla's aspiration of transforming from a niche automaker into a giant, and auto dealerships — affiliates of major automakers like GM, Ford (NYSE:F), and Toyota (NYSE:TM) — are challenging its nontraditional method of selling its electric vehicles, which eschews the dealership model. Then, there is the problem of the base price of the Model S. At nearly $70,000, such a vehicle does not appeal to the mass market, and any low-cost version is not only years away but will considerably narrow the company's margins.
Still, Wall Street deemed it appropriate to bestow upon the company a market value that is 10 times its expected annual sales this year. At that valuation, Tesla is more expensive than Ford, which is valued at $64 billion, or slightly less than half the value of the company's expected 2013 sales of $140 billion, and more expensive than Toyota, which is valued at $200 billion, or about three-quarters of its expected annual sales of $260 billion. It even has a higher price-to-sales ratio than Google (NASDAQ:GOOG), whose market cap of $290 billion is about five times 2013's expected revenue.
As a result of this expensive valuation, a large number of investors have sold Tesla's stock short, effectively betting that Tesla will not be able to make good on the industry's expectations and that its shares will drop instead of continuing to rise in the near future. But whether these short bets pay off depends on the company's ability to develop an electric vehicle at a favorable price point — one that does not hurt its margins significantly — and its ability to translate Tesla's technological prowess into benefits that the industry appreciates.
Follow Meghan on Twitter @MFoley_WSCS