Here's Why Kentucky Is Throwing Money at Toyota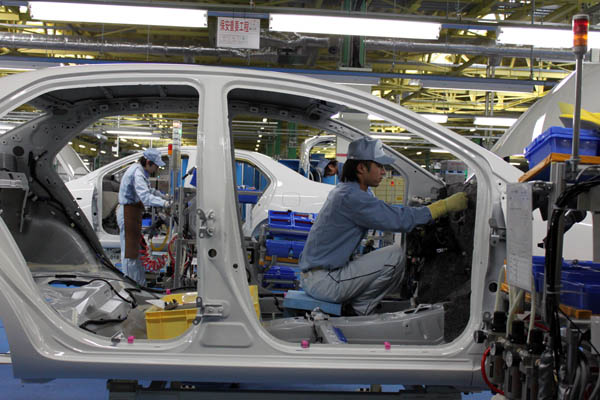 The state of Kentucky really wants Toyota (NYSE:TM) — the world's largest automaker — to expand its auto-assembly factory located in Georgetown by 2015.
Toyota's Georgetown plant may already be the largest plant in the North America, but Kentucky has offered the company $146.5 million in tax incentives to produce an additional model, which will add 50,000 units to production annually, in Georgetown. In a statement made Friday in New York, Toyota President Akio Toyoda and other senior executives, announced that it would invest $360 million to move its Lexus ES 350 production line to the factory in Georgetown by 2015. This move is expected to create 750 new jobs, above the 570 full-time jobs required by the state to receive the tax credits. The factory currently employs more than 6,100 workers.
"Since its arrival here in 1986, the impact Toyota has had on Kentucky has been immeasurable, and the addition of Lexus production only adds to that enduring legacy," said Kentucky Governor Steven Beshear in a statement seen by Detroit News. "The establishment of production for the Lexus ES 350 will afford Kentucky a tremendous opportunity to expand and strengthen its vast supplier base, creating even more growth potential in the future. Kentucky is proud of the confidence Toyota continues to demonstrate in our vibrant and skilled workforce as they prepare to make a vehicle model that, like them, has earned a reputation for high quality."
The ES is Lexus's best selling sedan, with about 58,850 vehicles sold in North America last year. As a major profit generator for Toyota, the car is being prepared to lead the company's efforts to dethrone Bayerische Motoren Werk's BMW and Daimler's (DDAIF.PK) Mercedes-Benz as the top luxury car manufacturers in the U.S. Before 2011, Toyota had spent 11 years in the number one position, and now the company is making its models more like performance cars and less like family cars to better compete with its German rivals…
While a top seller in the United States, the ES is "not really a big seller in Japan," according to Advanced Research Japan analyst Koji Endo. He estimated that Lexus currently contributes about 20 percent of Toyota's global profits, so moving production to the U.S. "makes sense," he added in an interview with Boomberg.
Toyota expects to sell at least 260,000 Lexus cars and trucks this year, up 6.5 percent from the year-ago period and the most since 2008. The company has refreshed the Lexus GS, ES, and IS sedans in the past 18 months in hopes of fueling global sales as demand increases for luxury models in China, Southeast Asia, Latin America, and Russia. Increased Lexus sales, with higher prices and profit margins than mass-market Toyota models, means expanded earnings for the company, whose sales of cheaper cars are increasing.
"Globally, the real volume increases are coming from India, China, Brazil, but with cars that sell for under $10,000," Endo told the publication. "They have to have these higher margin products, and that's the role of Lexus."
Over the past 18 months, the company has unveiled plans to increase production capacity at its plants in Mississippi, Indiana, West Virginia, and Canada, propelled forward by an investment of approximately $2 billion that created more than 4,000 jobs.
Don't Miss: Will Ford's Mustang Be America's Darling Once Again?