Here's Why Tesla Doesn't Need Traditional Automotive Marketing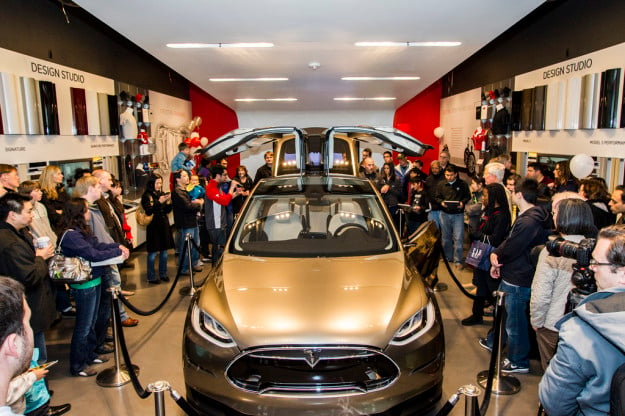 Despite the fact that Tesla (NASDAQ:TSLA) spends no money advertising, does not employ an ad agency or a chief marketing officer, and has no dealership network, the company's founder Elon Musk is building an auto brand whose reputation far exceeds the 10,000 cars it has sold in the past 10 years. Proselytizing customers is one way Musk has capitulated Tesla to the status of a cult brand; pushing test drives is another. The fact that the automaker earned its first profit in company history last quarter and Consumer Reports gave the Model S sedan an unprecedented review has also served to triple Tesla's stock so far this year and assure industry watchers that Musk's decision to eschew the rules of automotive marketing just might work.
Instead of utilizing dealership as major automakers like Ford (NYSE:F) or Toyota (NYSE:TM) do, Tesla sells its electric vehicles through "stores" in upscale shopping malls and through the Internet. Currently, the company has 35 stores across the United States, Europe, and Asia, and has plans to open an additional 15 in the next few years, according to a filing made with the Securities and Exchange Commission. Tesla has chosen this sales strategy because the high-tech stores provide a setting for customers to ask questions without high-pressure sales tactics, company spokeswoman Alexis Georgeson told AdAge. "Right now, the stores are our advertising. We're very confident we can sell 20,000-plus cars a year—without paid advertising," she said. "It may be something we'll do years down the road. But it's certainly not something we feel is crucial for sales right now."
Test driving also helps sales. "If you're driving a Tesla, it changes your life. This thing is an incredible wonder," said CNBC's Jim Cramer on "Squawk Box" at the end of May, regarding his test drive. "I'm not talking about the stock, I'm talking about driving the car." Consumer Reports is in agreement. The iconic ratings magazine gave the vehicle a near-perfect score of 99 out of 100 in its May issue, citing the electric car's power, "pinpoint" handling, and its quiet, well-crafted interior.
Chief Executive Officer Musk explained just how powerful a tool testing driving one of the company's vehicles has been for sales growth. About 25 percent of people who test drive one of the company's vehicles eventually purchase one, he said on CNBC, which is a "really high conversion ratio."
As with Apple (NASDAQ:AAPL), the fascinated media does much of Tesla's public relations. In fact, Musk inspired the Tony Stark character in Viacom-owned (NASDAQ:VIA) Paramount's Iron Man film. "They're selling very few cars when you think about it — but they are getting an awful lot of buzz," Jeremy Anwyl, vice chairman of auto consultancy Edmunds.com, told AdAge. "You have to credit [Musk], who's very Steve Jobs-like in how he deals with the media. A lot of the attention is not generated through what we consider traditional advertising. It's really through social media."
Tesla's lack of dependence on traditional advertising has helped its finances. In the first quarter, Tesla spent $55 million on research and development and just $47 million on selling and general and administrative expenses, which includes marketing. For comparison, Nissan spend $25 million advertising its electric Leaf in 2012.  However, Tesla has said that it may "incur substantial marketing costs" through the use of "traditional media" in the future.
Still, Tesla has a few battles left to fight, most notably with dealer associations, which are questioning the company's right to sell cars directly to consumers in several states.
Follow Meghan on Twitter @MFoley_WSCS
Don't Miss: Does GM Have an Investment Grade Credit Rating in Sight?