Here's Why Tesla Sees a Huge Opening in Germany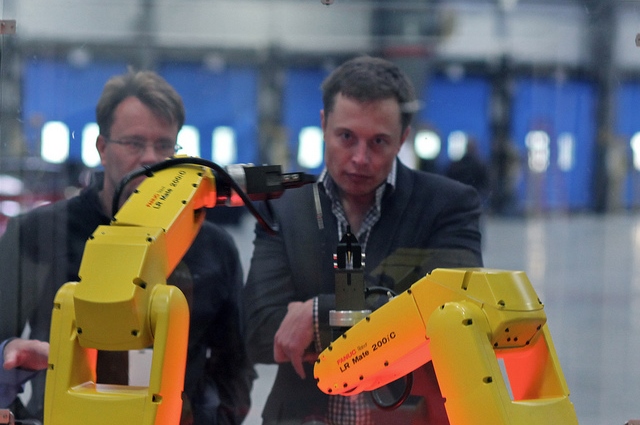 Despite the success of Tesla Motors (NASDAQ:TSLA) in U.S. markets such as California, the electric vehicle maker is looking to the world markets that are hungry for emissions-free performance cars, and Germany is a prime target. Because the country has a strong base of environmentally-friendly citizens bred on superior automobile technology, Elon Musk told a German audience that the company is expecting to have a huge fan-base there, Forbes reported.
"I think Germany will be disproportionate to the U.S. in the cars that are sold," Musk said to the crowd, according to Forbes, putting the number around three-fourths the Teslas sold in the U.S. The overall German auto market sells only one-fifth the number of cars sold in the United States annually. The increase for Tesla would be fueled by a more prominent adoption of green car technology, which would have to involve setting up charging stations throughout the country.
According to Reuters, Musk sees the entire country of Germany covered in charging stations by the end of 2014, when 25 Tesla dealerships should be open for business. The Model S carries a price tag of nearly six figures in Germany, making Tesla's goal even more ambitious than originally conceived. However, the impressive performance features of the Model S give Tesla an opening with German consumers who speed down the Autobahn.
Germany's legendary high-speed motorway tests the bounds of automobile performance, but Tesla has a special Autobahn tuning in the works, according to Forbes. Satisfying the demands of a German consumer used to performance handling from a Mercedes Benz (DDAIF.PK) or BMW (BMAXY.PK) would be a considerable challenge, but Tesla engineers just may be worthy of the feat.
Since Tesla has topped sales of cars like the Volkswagen (VLKAY.PK) Golf in Europe, German automakers have reason to take note of Tesla's appearance as much as any other U.S. companies. In terms of an all-electric vehicle, only BMW has made it to market thus far with the i3. With a comparatively paltry 170 horsepower on 184 pounds-feet of torque, the BMW i3 does not have Autobahn-style clout, despite its price tag of $41,350 in the U.S. The i3 cannot travel above 100 miles on a full charge.
The Tesla Model S specs include 302 hp on 317 lb-ft torque in the base model — a car that can cover over 200 miles on a full charge. Tesla has a major opening with German consumers. The main question is how quickly it can establish its charging network to take advantage of the situation.
Don't Miss: Elon Musk Explains the Model S Fire — Again.