Honda Goes for Top Safety Pick with This Winning Vehicle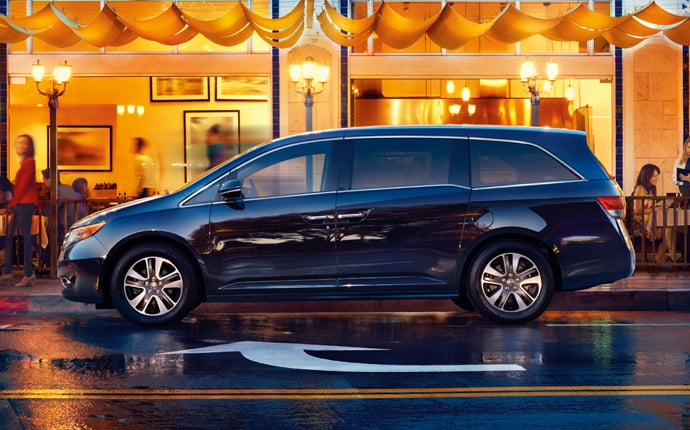 There are some car segments in which style doesn't play, horsepower doesn't impress, and sexiness doesn't even register. It's the world of minivans, the sort of ride soccer moms are known to purchase on one factor alone: safety. Shuttling kids to and from school or band practice demands a significant chunk of world automakers' attention. Honda (NYSE:HMC) is looking to be the lion in the minivan division, and it looks capable of winning.
First comes the "front small overlap" crash test for its 2014 Odyssey Minivan. Bloomberg reports that the company invested heavily in safety upgrades to its 2014 Odyssey in hopes of scoring big on the Insurance Institute for Highway Safety crash test. According to the news outlet, preliminary results looked promising to Honda engineers, and in the coming weeks Honda will know if it can enjoy the designation of IIHS "top safety pick plus."
Such a distinction is no mean feat. Glancing at the top-scoring minivans on the IIHS website, a pattern begins to emerge. The Honda Odyssey has top billing along with the Toyota (NYSE:TM) Sienna, Chrysler (FIATY.PK) Town & Country, and Dodge Grand Caravan. These same four are the four best-selling vehicles in the minivan class. However, there is one category in which none of them were tested.
That category is the front small overlap crash test. According to the Bloomberg report, this test was not developed completely until the 2014 Honda Odyssey ran the gauntlet. The Japanese automaker's 2012 Odyssey failed the test, and would have been pounded in the ratings if the test was in full use. This year's models would be the first to have the test factor prominently in the overall safety score, and Honda went out of its way to land the top billing.
Honda also has a top-scoring automobile on its hands in the 2013 Acura TL, which received the top designation of top safety pick plus along with the 2013 Volvo S60 in the midsize luxury/near luxury car category. Down a peg — yet still sporting top safety pick plus designation — was Ford's (NYSE:F) 2013 Lincoln MKZ, which scored "Acceptable" in the front small overlap test and in the top category of every other element.
Honda will hear the news about the Odyssey August 29. Until then, it will have to accept having the top-selling minivan without the designation. Should it become a top safety pick plus, the rich will get a little bit richer.
Don't Miss: GM Reviving Old Strategy: A Car for Every Purse and Purpose.