Honda Swings for the Safety Fences with the New Odyssey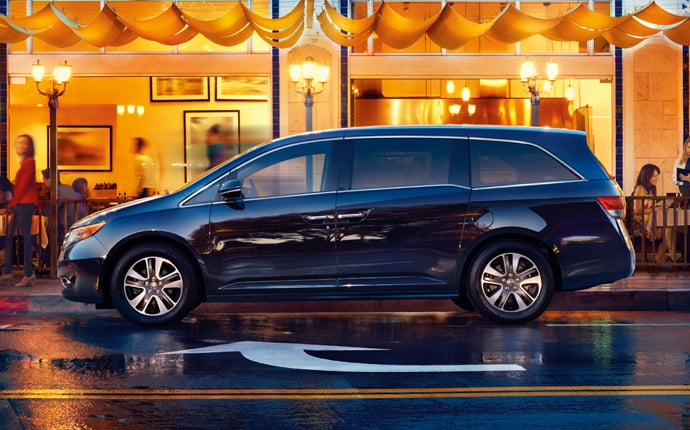 Following a period where Honda's (NYSE:HMC) Odyssey minivan was able to deliver in all aspects except safety scores, the Japanese car maker has revisited the vehicle's structural design so that safety will again be a key principle of the newest Odyssey.
When it comes to minivans, safety is an especially crucial factor in selling the vehicles — more so than fuel economy, handling, looks, and power. Honda engineers are well aware of this, and Honda's minivans have long earned perfect five-star safety crash ratings from the government. But in late 2011, something was missing, and the vehicle submitted for testing didn't live up to Honda's reputation on that front.
"The crash testers at the Insurance Institute for Highway Safety laboratories sent a 2012 Odyssey zooming into the corner of a concrete barrier at 40 mph," Auto News reports. "The impact obliterated the corner of the van and left a gaping hole where the left front tire had been. Behind that, the driver-side foot well and door frame buckled, which would have put a driver at risk of severe leg injuries."
This particular crash was the "small overlap" trial, when front corner of a car — in this case, the driver's side — strikes an oncoming car or other stationary object. In order to receive a Top Pick+ designation from the IIHS, cars must pass this test with flying colors, but this specific type of crash is far more difficult to sort out preemptively.
Chuck Thomas, Honda's chief engineer for vehicle structure research, explained to Auto News that a small-overlap impact misses the steel beams that crumple to cushion a head-on crash, leaving more room and ability for the crash to make its way toward the cabin of the car.
"The structures which are most capable of absorbing that kind of front-end energy just aren't so accessible," he said to the publication. "That's what makes these crashes very severe."
Though some manufacturers have come up all right with the newer test, others have faltered. However, poor initial ratings in the test doesn't necessarily indicate that the companies are moving safety to being a lower priority.
Joe Nolan, head of the IIHS crash laboratory, said to Auto News that it usually takes five or six years — about one full product cycle — for all models in a particular brand to ace a new crash test. "The programming of an airbag can change pretty quickly," he said. "But a fundamental change to the architecture of the front end of the vehicle? That's a pretty big deal."
Don't Miss: Sale of GM Warrants Brings a Chunk of Change to UAW Trust.