Investors Send Love to Tesla in Form of $20 Billion Market Cap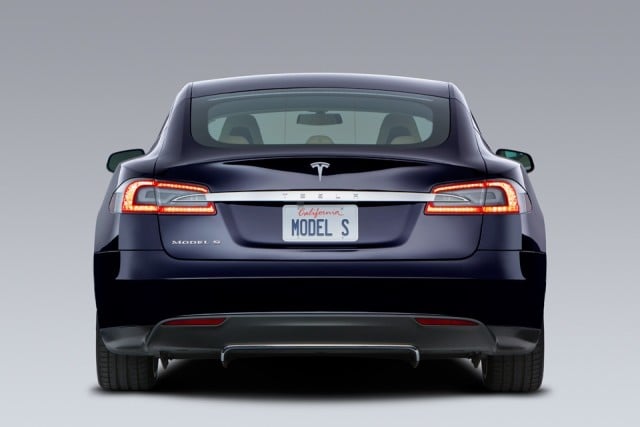 When shares of Tesla Motors (NASDAQ:TSLA) hit $172.75 on Monday, on their way to a new all-time high of $173.00, the company's market value swelled to $20 billion, a sure sign of investor optimism. "Justified or not, the expectations for this company are now very high," noted Baum & Associates automobile analysts Alan Baum, via Bloomberg. In fact, he likened the electric vehicle manufacturer to Apple (NASDAQ:AAPL) in that the company has "managed to cross the automotive and technology fields to become this hot commodity," Baum said.
Monday's upswing was likely fueled by Tesla's sales performance in California — its home base and the largest U.S auto market. According to the California New Car Dealers Association, the Model S was the third-best-selling luxury sedan in the first six months of 2013 after Daimler's (DDAIF.PK) Mercedes-Benz E-Class and Bayerische Motoren Werke's BMW 5-Series models. To provide context, Daimler is an investor in Tesla, with a 4 percent stake.
Robert W. Baird analyst Ben Kallo told Bloomberg that the anticipation of overseas demand has helped boost Tesla's stock price as well. "Deliveries in Europe and taking reservations in China are all helping with strength," he said. Still, in terms of sales and production volume, Tesla ranks among the smallest international automakers. Data compiled by the publication shows the Palo Alto-based carmaker has the thirteenth largest market capitalization, just behind Kia Motors (KIMTF.PK), but ahead of Suzuki (SZKMF.PK), Mazda (MZDAF.PK), and Fiat (FIATY.PK) — the majority owner of Chrysler Group.
In comparison to Tesla's $20 billion capitalization, General Motors (NYSE:GM), the largest U.S. automaker by sales, has a $49 billion market value, while Ford (NYSE:F) has market value of $65 billion, the largest among the U.S.-based carmakers. But, at current levels, Tesla shares trade at approximately 271 times estimated 2013 earnings, while GM trades at 10 times earnings and Ford trades at 11 times. Investors are confident in both company's cars and its finances.
The Model S has been hit with several accolades this year. Motor Trend declared the electric vehicle its 2013 Car of the Year, an award the magazine has been conferring for the last 60 years. Consumer Reports, the iconic ratings magazine gave the vehicle a near-perfect score of 99 out of 100, citing the electric car's power, "pinpoint" handling, and its quiet, well-crafted interior as the reason for giving it the highest rating of any vehicle the magazine has ever reviewed.
"Is the Tesla Model S the best car ever? We wrestled with that question long and hard. It comes close. And if your needs are confined to the Tesla's driving range, it just may be," wrote Consumer Reports. A crash test conducted by the National Highway Traffic Safety Administration also gave Model S a five-star rating this month.
Alongside the generally positive critical welcome the Model S has been given, Tesla has been strengthening its financial position. In May, after reporting its first quarterly profit for the first three months of the year, the company made a second public share sale, which raised more than $1 billion and gave Tesla the ability to fund additional product development and pay off its U.S. Department of Energy loan nine years ahead of schedule.
Even so, the automaker's strong second quarter results came as a surprise.  Analysts expected the company to report a loss of $18.9 million in net income, which would have been a marked improvement from the loss of $93.2 million it recorded in the year-ago quarter. But Tesla reported a net income of $26.3 million — an increase of 70 percent from the first quarter, a gain that was driven by record Model S deliveries and a significant improvement in its gross margins.
During the subsequent earnings conference call, the company's Chief Executive Officer Elon Musk used the company's strong quarterly results and growing production numbers as proof that Tesla has the financial brawn and necessary momentum to power a production expansion.
However, some industry experts have warned that investors should be cautious. At a market capitalization of $20 billion, it is likely that the stock prices has taken account Tesla's ability to achieve 25 percent gross margins, sell 100,000 Model S sedans and the yet to be delivered Model X crossover, and develop a low-cost, $35,000 sedan.
While there are many factors to consider when determining the potential profitability of Tesla, Forbes contributor Chuck Jones outlined two key metrics: the number of cars that it needs to sell in order to generate enough revenue and to meet the gross margins that support a market valuation of $20 billion.
In responding to one commentator, Jones noted that the basis for his concern is that "the number of cars that Tesla has to make to support the current valuation will be very difficult to hit and the market assumes that there won't be any problems between now and the 2016/2017 timeframe."
Tesla even wants to hit a market capitalization of as much as $43.2 billion by 2022. In order for Tesla to be worth $43.2 billion, Musk's company must sell 540,000 Tesla vehicles per year, according to calculations made by Reuters' Breakingviews in June. But the company is expecting to sell just around 35,000 cars this year.
Additionally, the company would have to generate about $2.9 billion in profit. Assuming a generous pre-tax margin of 12 percent — which implies that decreasing technology costs will offset the negative impact of selling lower-priced models — and a standard 30 percent tax rate, Tesla's revenue would need to reach $34 billion for the year. That figure is 18 times this year's expected top line.
Follow Meghan on Twitter @MFoley_WSCS
Don't Miss: Can Diesel Engines Revitalize the Small Pickup?