Is Ford's Mustang Still the Movie Star It Once Was?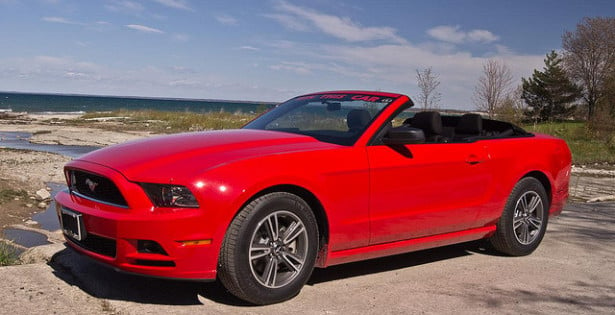 Ford's (NASDAQ:F) iconic Mustang pony car has been featured in more than 3,000 movies and television shows in its life, driving its way through American culture and cementing its position in the American collective consciousness. As James Bond, Sean Connery evaded a Mustang driven by a beautiful female assassin in 1964's Goldfinger; Steve McQueen drove a 1968 Mustang in the nine-minute, 42-second car chase in Bullitt; and an orange 1973 Mustang Mach I starred as the getaway vehicle in 1974's Gone in 60 Seconds.
Coinciding with the car's fiftieth anniversary and Ford's attempt to breath new life into its classic sports car, the Dearborn, Michigan-based automaker has agreed to let the Mustang appear in Need for Speed, a film based on the popular Electronic Arts (NASDAQ:EA) video game series. With the Mustang as the focus of the film, Ford will be able to target a worldwide audience that has purchased more than 140 million units of the video games during the past two decades, and, in the process, fashion the pony car as a cultural icon once again.
"We've been engaged with a lot of movies, but not to this extent with Mustang," Mary Ellen Abraham, Ford's experimental marketing manager, told The Detroit News in a telephone interview. "This is probably the biggest one we've done in the last several years. We see the biggest value with it."
Scheduled for release on March 14, 2014 — a month and three days before the car turns 50 — Need For Speed will feature a specially designed Mustang, with a custom-built wide body, 22-inch alloy wheels, and larger air intakes for the supercharged V-8 engine that will be under the hood. The film will star Aaron Paul of Breaking Bad, Dominic Cooper of Captain America, and Michael Keaton of Batman.
"Once we figured out who we were working with the story, we needed a hero car, and we came straight to Ford," Pat O'Brien, vice president of Electronic Arts Entertainment, told the publication. "There's no better iconic car to cross the country than the Ford Mustang."
Since the automaker unveiled the iconic pony car in 1964, more than 8.5 million Mustangs have been produced. With the first Mustang, the company even defined an entire class of American automobiles, known as the "pony car," which refers to a sport-car like coupe with a long hood. But time has come for a refresh; sales of the Mustang hit historic lows in the United States in recent years.
Ford's Mustang has lived a life full of twists and turns. "I remember when Ford Motor Company wanted to end the Mustang," United Auto Workers vice president Jimmy Settles, told AOL Autos in April after the longest-tenured Ford employee, Ed Salna, drove the one millionth Ford Mustang manufactured at the company's Flat Rock Assembly Plant — a ruby red 2014 convertible — off the assembly line. "I also remember when it was $99 down and $99 a month."
Follow Meghan on Twitter @MFoley_WSCS
Don't Miss: Ford Needs More: Set to Hire New White-Collar Workers.