Is GM Planning Buybacks to Speed a Government Exit?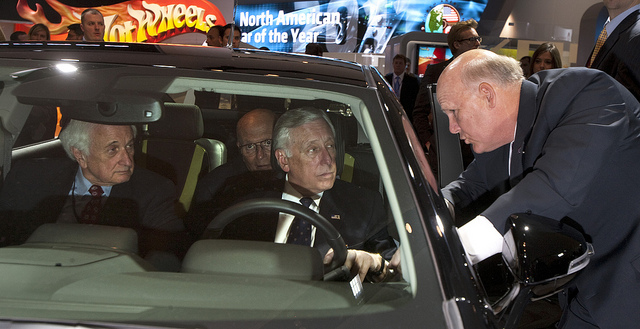 Following an excellent third-quarter earnings report, General Motors (NYSE:GM) is again facing questions about the 100 million shares still owned by the U.S. government. Analysts questioned GM Chief Executive Dan Akerson during the earnings conference call and received an answer that hints the automaker could have another buyback up its sleeve, a move that would help accelerate the U.S. Treasury's exit as a GM shareholder and clear the path for dividend payments to investors.
In reporting the robust earnings for the quarter, Dan Akerson took up the issue of "what it takes to go from being good to great at General Motors." Aside from delivering top-shelf automobiles and making customers happy, Akerson noted the importance of "making sure the company has good bones," a reference to the balance sheet, among other things. To that end, the automaker's chief executive mentioned "certain shareholders" that may exit the business soon.
Following that comment, Akerson referenced the buyback of $5.5 billion in December 2012. He said the concerns of shareholders will continue to be addressed, which prompted Brian Johnson of Barclays to consider another GM buyback of its stock likely, the Detroit News reports. According to the news agency, Johnson wrote in a research that he sees a buyback of as much as $2.5 billion on tap for GM this month, which would help the government exit the automaker faster than expected.
Following the sale of all General Motors stock, the U.S Treasury will come up nearly $10 billion short of its investment in the automaker as it approached bankruptcy. Because of the structuring of the bailout, there was no requirement for GM to pay the money back in its entirety, which will end up serving as an investment in the economy and the economic wellbeing of the region. There are approximately 100 million shares of GM stock still under government control.
Akerson's reference to the "certain shareholders that are exiting the business" makes it clear the subject is still incredibly sore for the automaker, as the stigma of receiving bailout money will not disappear. In the estmation of many analysts, buying the government stock back before the U.S. Treasury has a chance to sell it would be a good first step. From the tenor of the comments by General Motors executives, that buyback could happen before the end of the year, which would clear the path to dividend payments and a better corporate image.
Don't Miss: The 10 Least Reliable Car & Truck Brands.