Is GM Readying a Natural Gas-Driven Impala?
A collection of roughly trimmed, de-badged cars parked in a hotel parking lot with their hoods agape prompted a photographer to mosey in and snap a few pictures of the vehicles, which turned out to be the next generation of General Motors' (NYSE:GM) Chevrolet Impala. A few curious details emerged form the photos — notably, the blue diamond-formated stickers on the back that read CNG.
Autoblog notes that since the Impala is a huge hit with fleet customers — businesses and agencies who order multiple cars for business use — the models seen in the hotel in Colorado are most likely test mules for a compressed natural gas power train that will be aimed more at bulk-buyers, instead of the everyday consumer.
Despite the stickers, there are a few other notable differences that set the test models apart from the normal production vehicles. The exhaust outlets are slightly different than the ones found on the Impala outfitted with the V6 (which Autoblog test drove in March), and the layout in the engine bay looked slightly altered as well.
GM is hoping to reverse its fleet-to-retail ratio from 70/30 where it is now, to 30/70 in the future. However, by making the vehicles more retail-friendly, the company would likely trade off some of the features that fleets find so appealing. The natural gas variant could be enough to keep fleet interest at the 30 percent mark.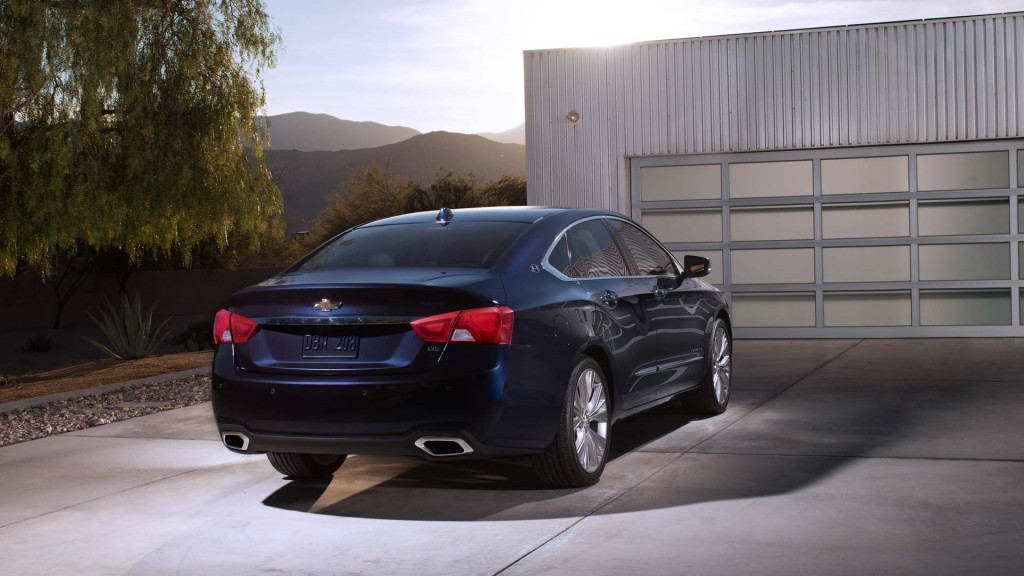 When asked to comment on the CNG Impala, GM replied: "We do offer a CNG van and a bi-fuel pickup truck, but still studying the demand for CNG powered passenger cars. Infrastructure is a consideration for anyone buying these types of vehicles. Unfortunately, there's nothing to announce today on this front."
The new Impala is somewhat polarizing among observers. While the new model is certainly a departure from the sleepy-styled models made previously, it has drawn some criticisms for its striking similarities to other cars. It's hard to deny that the front end looks like a GM rendition of Honda's (NYSE:HMC) new Accord, while the back end is reminiscent of the Kia Forte sedan, or even the Audi A4.
Don't Miss: GM's New Fleet Is Drowning Out Haunting Bailout Memories.