Is it Finally Time to Short Tesla?
One year ago, Tesla (NASDAQ:TSLA) Chief Executive Officer Elon Musk told Fox News that there was a "tsunami of hurt coming for those holding a short position" on the company's stock. On September 13, 2012, the day his interview aired, shares of the electric vehicle maker's stock closed at $28.28.
At that time, the company's problems were creating headlines like "An Electric Carmaker Struggles as Its Production Lags," from The New York Times. The new Model S was four to five weeks behind on production, the company was consuming cash at such a rapid rate that it had turned to investors and the federal government for financial help, and its quarterly revenue forecast had just been cut. "Tesla's story is starting to show some serious cracks," CapStone Investments analyst Carter Driscoll told the Times. "This shows that capital raising is a necessity, not a luxury, as the company had maintained." In other words, shorts saw an opportunity.
Selling short is the practice of selling securities — or other financial instruments — that are not currently owned with the intention of subsequently repurchasing them, or "covering" their position, at a lower price. In the event of a price decline, the short seller will profit, since the cost of repurchase will be less than the proceeds received upon the initial, or short, sale. Unfortunately for those investors who went short on Tesla last September, shares continued trading in the high $20-per-share range before beginning an upward climb. By early this week, that climb left shares trading almost 510 percent higher than they were 12 months earlier.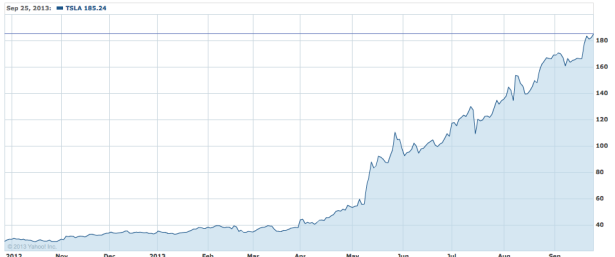 What prompted Tesla's stock to soar? For one, under Musk's leadership, Tesla "managed to cross the automotive and technology fields to become this hot commodity" like Apple (NASDAQ:AAPL), commented Baum & Associates automobile analysts Alan Baum, via Bloomberg.
Also, while the $70,000 price tag of the Model S sedan makes the car prohibitively expensive for most people in the world, Tesla has proven most other negative stereotypes of electric vehicles to be wrong: namely that gas-powered vehicles are undoubtedly superior. The Model S has been hit with several important accolades this year. Motor Trend declared the electric vehicle its 2013 Car of the Year, an award the magazine has been conferring for the last 60 years.
Consumer Reports, the iconic ratings magazine, gave the vehicle a near-perfect score of 99 out of 100, citing the electric car's power, "pinpoint" handling, and its quiet, well-crafted interior as the reason for giving it the highest rating of any vehicle the magazine has ever reviewed. "Is the Tesla Model S the best car ever? We wrestled with that question long and hard. It comes close. And if your needs are confined to the Tesla's driving range, it just may be," wrote the magazine.
Despite a harsh review in The New York Times earlier in the year, those awards have created more confidence in the brand. In early July, Jefferies analyst Elaine Kwei noted that approximately 17,500 all-electric vehicles have been sold so far this year with the Model S and the Nissan (NSANY.PK) Leaf making up the vast majority of those units.
When the company reported second-quarter earnings, the popularity of Tesla's luxury electric vehicle with the affluent and the environmentally conscious was clear from the numbers. The company sold 5,150 of the cars in the second quarter, or approximately 1,700 per month, a figure comparable to the sales of its top plug-in rivals: the Nissan Leaf and General Motors' (NYSE:GM) Chevy Volt. The comparable sales came despite the fact that the cheapest Model S comes with a high price tag.
This year's solid sales numbers helped Tesla finally become profitable, and therefore significantly bolstered investors' confidence in the company. As a result the company's stock price has steadily risen, generating a new all time of $189.68 on Thursday. The day's gain was precipitated by the news that Hertz (NYSE: HTZ), the world's largest airport car rental brand, will carry both the Tesla Model S and Tesla Roadster in California at San Francisco and Los Angeles airports.
"Justified or not, the expectations for this company are now very high," said Baum after data from the California New Car Dealers Association showed that during the first six months of 2013 the Model S was the third-best-selling luxury sedan in the state, Tesla's home base and the largest U.S auto market. The phrase "justified or not" is of particular importance in any analysis of Tesla's valuation because for some experts, Tesla's stock appears way too overvalued.
Aswath Damodaran, a finance professor at the Stern School of Business at NYU, wrote in a September 4 blog post that even assuming that Tesla will grow to be as large as Audi while delivering operating margins closer to Porsche's (POAHY.PK)," he "cannot see a rationale for buying the company at today's market price." He said it seems "absurd" to put a $20 billion (now $22 billion) market value on a company with revenues of $1.33 billion and an operating loss of about $217 million over the past 12 months.
"At close to 15.4 times revenues, Tesla is being valued more like a young technology company than an automobile company," he wrote. However, he did mitigate that observation by noting that those "standard metrics are also often misleading with young companies, since value should be driven not by revenues and earnings today, but by expectations for these values in the future."
In his opinion, it is conceivable for Tesla's revenues to match the $100 billion or more generated by large automakers, but the revenue growth required to get to those levels would be incompatible with the high operating margins that he assumed for Tesla. What Damodaran means is that his analysis depends on Tesla manufacturing solely high-end electric vehicles with operating margins similar to the higher end of the auto industry, and by manufacturing only high-end electric vehicles, the company will find it difficult to generate revenues on par with large automakers, which have a massive lineup of vehicles.
"The ingredients that make a young, money-losing company into a valuable, mature company are no secret: small revenues have to become big revenues, operating losses have to turn to profits, there has to be enough reinvestment (but not too much) to make these changes and the risk has to subside," Damodaran wrote.
"I am assuming all of these at Tesla but my estimated value per share of $67.12 is well below the market price." What he is arguing is not that Tesla will crash and burn as last year's short sellers assumed, but that investors are too optimistic for now.
As Citron Research explained, "Tesla's stock is now priced as if nothing can or will ever go wrong, and execution will unfold with delay or misstep flawlessly over the next five years, as Tesla undergoes the inevitable transformation from a disruptive company selling to early adopters, into a global auto-manufacturing brand."
To Citron analysts, those investors who bought Tesla stock at $30 per share, "owned the future of the Model S," and those who bought at $60 "owned the future of the Model X." But for those investors buying stock at $180 per share, the "basis is so high that you own the potential and the liabilities of Tesla's Gen 3 — presumably its "Model E" — 3 or 4 years out in the future, which has significantly greater risks than previous models."
Even Musk commented in an interview with Fox Business Networks' Liz Claman that aired Thursday afternoon that the company's current valuation "is assuming a lot of good execution." He even suggested it is now a better time to short Tesla than it was in September 2012. "In the past, I said it's really crazy to short Tesla. Is it so crazy to short Tesla right now? I mean, it's not as crazy, but I still think it's probably not a good idea," he said.
Don't Miss: Here's How Electric Cars Overcame Age-Old Hurdles