Is Tesla's Hot Stock Heating Up Too Fast?

Is Tesla Motors' (NASDAQ:TSLA) stock heating up too fast, or are the electric car company's rising shares simply a function of where it's headed? As the company's shares continue to skyrocket — rising above $110 on Tuesday — analysts are speculating whether the stock's acceleration is warranted, or if investors are getting ahead of themselves. Wednesday put the brakes on the rapid stock price acceleration, settling at $104.63 per share.
Tesla has been full of good news recently. Not only did it report its first quarterly profit on May 8 and had its Model S car receive an almost perfect score from Consumer Reports this month, but it also announced its full repayment of government loans. That made it the first recipient of a U.S. Energy department vehicle loan to completely pay off its debt.
Tesla's recent successes have sent its stock soaring, rising six-fold since its initial public offering in 2010. However, while many analysts expected the hot company to cool off after its additional shares hit the market, instead, the stock has decided to continue rising, baffling Takuo Katayama, an analyst at Daiwa Capital Markets. CNNMoney reported Katayama as saying: "There seems to be some euphoria … I don't want to say it's unjustified, but it's getting there."
Others believe that Tesla's consistently promising headlines warrant the lofty expectations and unusual trading. Andrea James, an analyst as Dougherty Company, argues that the company's potential to become a large-scale, lucrative auto maker has made investors price the stock differently. She says: "Tesla is not trading the way normal auto company would … But that's fitting because it's not a normal auto company."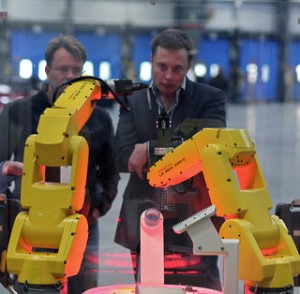 Still, throwing caution to the wind may not be the best bet. Much of Tesla's profits this year were facilitated by its link to government loans and certain emission credits, and the company is still only supposed to break even in 2013. Nonetheless, despite the lucky breaks the auto maker has been receiving, it is accountable for the increase in its global demand and will likely see even greater success should the rumors on battery charging and its launch of the Model S in Europe and China prove to be true.
One thing is for sure, investors know better than to underestimate Tesla's founder, Elon Musk, who has defied all of the expectations. Shares of Tesla are trading for more than 110 times 2014 earnings estimates, and traders are leery about betting against the superstar. Like others who have been encouraged by the man's leadership, James says: "The valuation is not crazy … With these kinds of forward looking companies, the stock is always a few steps ahead."
Don't Miss: Can Tesla's Model X Shake Up the Crossover Segment?