Is the Ford Raptor Making GM's Pickup Problems Worse?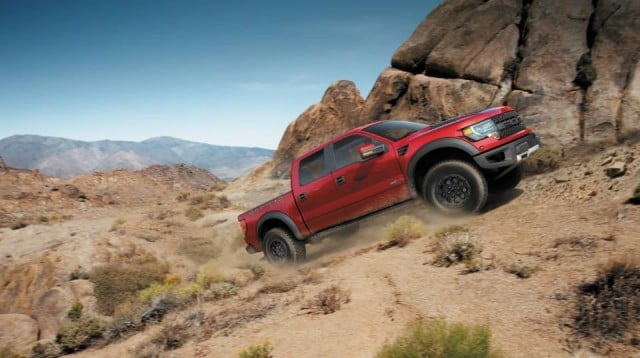 If the September sales results were any indication, General Motors (NYSE:GM) has two problems on its hands with its new pickups. Troubled by a limited supply of V8 models and only modest interest in high-end pickups, some data suggest the Ford (NYSE:F) F-150 Raptor is making the launch of the 2014 Chevy Silverado and GMC Sierra problematic.
After its investment in the redesign of both the Silverado and the Sierra, General Motors was counting on a successful September launch. However, buyers looking for the car and its powerful V8 engine were getting turned back by dealers, Bloomberg reports. Dealers had limitations on the numbers of the biggest-engine models they could order. In a market dominated by pickup sales, it's likely that contributed to the 11 percent drop in General Motors sales for September, compared to 2012 data.
While GM executives told Bloomberg Businessweek the higher pickup prices were a factor in the sales decline, that didn't stop buyers hungry for the Ford F-150 SVT Raptor trucks. Ford announced in mid-September it would be increasing production volumes so the company could give customers more of the high-end pickups they craved. The Ford Raptor sales data are convincing.
According to Ford, Raptor pickups were hanging around dealers' lots a mere 15 days, compared to the 60 days that is the industry average. To combat this "problem," Ford would increase its Raptor production from three units per hour to five trucks per hour. September auto shoppers knew exactly where to find their F-Series trucks.
U.S. auto consumers bought 60,456 units of Ford's signature pickup line in September, a gain of 10 percent year-over-year, and about 15,000 more trucks than the combined forces of the Sierra and Silverado could muster. All three pickups are neck and neck, with a 21 percent year-over-year increase in sales through September, bested only by Ram (FIATY.PK) pickups, which have seen a 23 percent increase in sales in 2013.
General Motors's excuse of higher price points slowing sales is shut down by the Raptor SVT pickup consumers have been buying at a record pace for $44,035. Only the most expensive Silverado — the LTZ Z71 standard crew cab — sports a price close to the Raptor Special Edition. In fact, Chevy buyers would get a break at $43,950. GM is still finishing the launch of its new pickups, but it would behoove the automaker to speed up the process. The competition is capitalizing on every slip.
Don't Miss: 12 Rides That Made the Car of the Year Short List.