It's a Battle of Wits for the CEO Spot at General Motors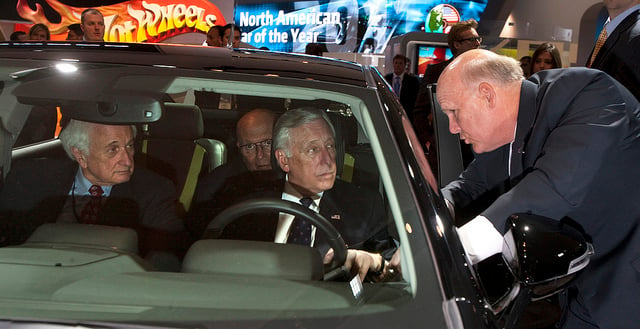 General Motors (NYSE:GM) Chief Executive Officer Dan Akerson is reportedly testing the four candidates for his replacement by giving them some of the company's most difficult problems to solve, according to a report from the Wall Street Journal.
Akerson hasn't said exactly when he's leaving the company, but some have speculated it will be in 2015. The four internal candidates vying to replace him include Vice Chairman Stephen Girsky, Chief Financial Officer Daniel Ammann, North American operations chief Mark Reuss, and global product development chief Mary Barra. All of the candidates are under 55 years old, meaning they could lead GM for a decade or more, which would give the company a kind of stability it hasn't experienced since the financial crisis. Akerson is GM's fourth CEO since 2008.
General Motors reported an 11 percent drop in sales in September versus the same month a year ago on Tuesday when automakers reported their monthly sales. Chevrolet sales dropped 14.7 percent and GMC sales fell 9.7 percent, while the Cadillac and Buick brands showed some growth. Analysts had only expected a 4.2 percent fall. Overall, the company sold 187,195 vehicles in the month. Rival Ford's (NYSE:F) sales grew 6 percent year over year to sell 185,146 vehicles with GM's biggest rival closing the gap between the top two U.S. automakers.
Those sales results only magnify the fact that GM is having a tough time retaining its spot as the number one automaker in the U.S. GM has returned to profitability since its government bailout, but its profit margins are still behind Ford. Akerson has said on multiple occasions that he's unhappy with General Motors progress.
Now, for a look at the contenders. Girsky and Amann have both worked on Wall Street for many years, but are relatively new to GM. Amann worked on GM's bankruptcy while he was a managing director with Morgan Stanley (NYSE:MS) and has been CFO of GM since April 2011.
Girksy has worked at GM for less than four years, but worked with GM and the United Auto Workers union for many years as an analyst and consultant. His union expertise could be useful for GM's impending negotiations over a $71 billion pension fund it owes the UAW.
Barra and Reuss have a cumulative 63 years at GM between them and both survived the company's 2009 bankruptcy. Akerson's decision to promote Barra from president of human resources to her post as global product development chief has fueled speculation that she could become the first woman CEO of a major U.S. automaker. Reuss is trained as an engineer, started working at GM as an intern in 1983, and the Journal says he has the most traditional "car guy" image of the candidates.
The company's board of directors will make the final decision as to who gets the CEO spot. Akerson didn't give the Journal a comment, but a GM spokesman said the company has "succession plans in place for all our key leaders."
Follow Jacqueline on Twitter @Jacqui_WSCS
Don't Miss: Surprise! Norway's Best-Selling Car Is the Tesla Model S.