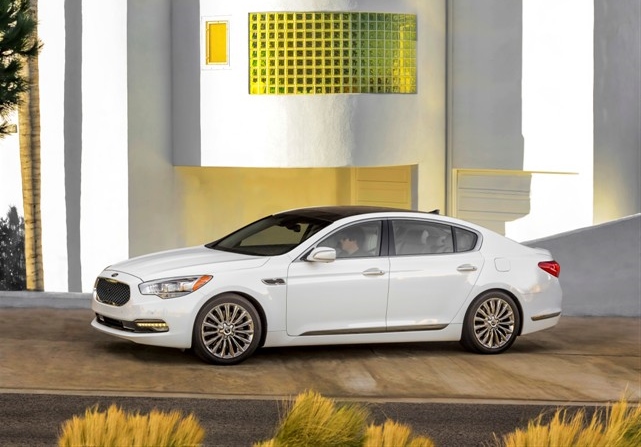 Of all the big splashes at the Los Angeles Auto Show, Kia (KIMTF.PK) is proving it has a buzz-worthy ride in the K900, its rear-wheel drive flagship sedan. Instead of the markets it has targeted in the past, the Korean automaker is thinking of a luxury consumer with this grand performance car with a 2015 badge. The question is whether it can draw away consumers from the German and U.S. brands based on its specs and final pricing.
The engines Kia has prepped for the K900 show it is not going quietly in the power game. The 3.5-liter V6 will produce 311 horsepower while the 5-liter V8 will be capable of cranking 420 horsepower. There's plenty for consumers to like about those figures, but Kia will sweeten the deal for buyers with optional luxury and tech packages. The engines are the same found in corporate cousin Hyundai's (HYMLF.PK) Genesis sedans, but Kia has gone further in styling and overall size.
When hints about the K900 were dropped in September, the idea was to recreate the aura and performance of cars like the BMW (BMAXY.PK) 7-Series while staying in the BMW 5-Series price range. To that end, Kia has not quoted a price on the RWD K900, though word is it will start just south of $50,000. Between the Los Angeles Auto Show debut and the Super Bowl ads planned for the K900, Kia is making a determined move on the luxury market.
Rear-wheel sedans of this size in the K900′s price range are few and far between. General Motors (NYSE:GM) has a much more powerful V8 engine (556 horsepower) in the rear-wheel drive Cadillac CTS-V, but the starting price is close to $65,000. The 2015 Kia K900 is expected to come in around $50,000 at the low end, giving the Kia a value and performance edge even when moving up into the luxury category.
If it is indeed all about the money, then Kia will have an advantage over 7-Series rides of comparable power that are far more expensive. The BMW 750i with a 445-horsepower V8 starts at $87,300 while General Motors's Cadillac CTS-V has a sticker price of $64,900.
Of course, the Cadillac CTS is the rear-wheel drive General Motors ride to beat at the moment, hot off its win as Motor Trend Car of the Year. The 3.6-liter V6 model (321 horsepower) starts at $54,625, which makes K900′s entry into the segment a challenge. Nonetheless, the automaker is getting the attention it hoped for with the K900′s Los Angeles Auto Show debut. With a Super Bowl commercial on tap, Kia should be well positioned when the car arrives at dealerships in the first quarter of 2014.
Don't Miss: 8 Hot Cars & Trucks From the LA Auto Show.