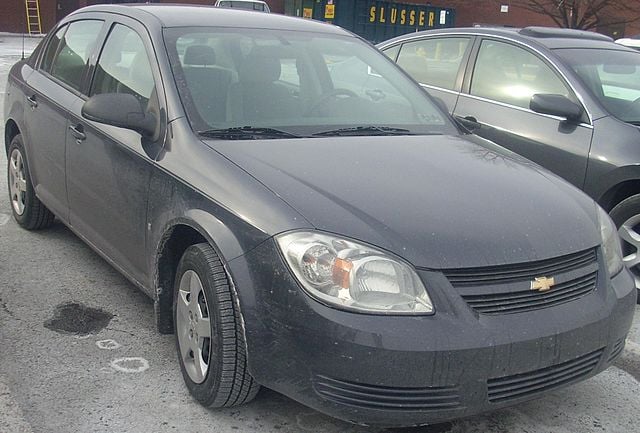 When General Motors (NYSE:GM) issued a recall for nearly 800,000 cars on February 13, the automaker seemed to have a large yet containable mess on its hands. A week later, the situation has gone from bad to extremely ugly as the details of a lawsuit come to light. According to USA Today, court documents reveal testimony that GM knew of the problem in its Chevy Cobalts cars in 2004 but waited another 10 years — during which there were six fatal crashes — to recall the defective models.
The court papers in question recount the testimony of a General Motors engineer who said he identified the problem, which affects Chevy Cobalts from 2005 to 2007 and the Pontiac G5 from 2007, way back in 2004. USA Today reports that this engineer's discovery led the automaker to issue bulletins to dealers in 2005 informing them of the problem. Advising dealers to provide a fix for unsold cars, GM reportedly did not suggest dealers inform customers who had already bought the defective Chevy and Pontiac cars that their cars had a problem worthy of serious concern.
Since 2005, at least 22 crashes and six fatalities have occurred in the models in question, in which the ignition switch could cause the airbags to deploy improperly or not at all. The GM engineer who testified in the lawsuit in 2013 said he believed the automaker's adjustment should have been applied to all vehicles affected though even that would not fix the problem, USA Today reports.
These revelations came during a lawsuit General Motors settled in 2013 involving the 2010 death of a Georgia woman driving one of the Chevy Cobalts in question. According to her estate's attorney, the National Highway Traffic Safety Administration (NHTSA) ought to get involved immediately.
Lance Cooper, who represented the Georgia woman who died in her Cobalt in 2010, has issued a letter to the NHTSA that says General Motors needs to explain to the agency why it knew of the problem yet began selling the vehicles anyway. USA Today reports that Cooper wants the NHTSA to question GM about the timeliness of its recall. If it had known about the problem in 2004, why did the automaker wait until 2014, when six people had by then died due to crashes in the company's defective cars?
This very ugly turn in the recall of discontinued Chevy and Pontiac cars presents the automaker with a skeleton in the closet from its darkest days. If the NHTSA decides GM failed to react in a timely fashion, the maximum fine for such an infaction is $35 million.
The PR nightmare General Motors could have on its hands may have a larger impact. Though vehicles from the 2014 Chevy Impala to the latest Silverado and GMC Sierra are scoring high among critics and consumers concerned with safety, it's difficult to rationalize a corporate culture capable of ignoring serious risks until a body count begins to mount.
More from Wall St. Cheat Sheet: