Mazda May Go Smaller Than the Compact CX-5
Seemingly not satisfied with its popular and critically acclaimed CX-5, Mazda is planning on sliding another smaller and more compact SUV-type vehicle beneath it, based on its Mazda2 compact hatchback, Automotive News reports. If confirmed, Mazda's decision would be consistent with the industry at large, which has been trending toward small, increasingly compact utility-type vehicles.
Automotive News, citing Japan's Nikkei business publication, said that introduction of the new vehicle would be timed to coincide with this summer's redesign of the Mazda2; Mazda declined to comment on the story, dismissing it as being "speculative."
Nikkei noted that the model would be meant for Japan and didn't mention plans for sales of the unit in the U.S. However, with the burgeoning success of vehicles like the Nissan Juke, Kia Soul, and the buzz over the recently announced Honda Fit-based crossover, it might be worth Mazda's while to consider adding the U.S. to any potential list of possible markets.
Furthermore, Nikkei said that Mazda's rumored CUV would cost between 1.5 million yen and 2 million yen, or about $15,000-$20,000, putting it at an incredibly competitive price point. In comparison, Toyota's RAV4 starts at more than $23,000.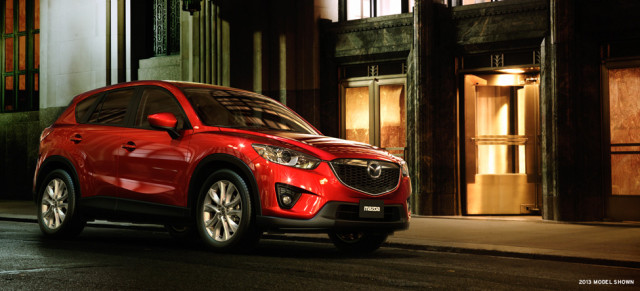 Mazda has been on a roll lately, with its new products winning critical acclaim around the globe. Its Cx-5 (pictured) is among the most efficient in its segment (35 miles per gallon on the highway), and it's the same story for the Mazda3 compact and the Mazda6 sedan. A highly anticipated diesel version of the latter is expected later this year and could be one of the most efficient and fuel-frugal sedans on the market.
If that diesel found its way into a Mazda2-based crossover, Mazda could have a game changer on its hands; reportedly, a diesel variant is already on the menu for Japan, Nikkei reports.
More from Wall St. Cheat Sheet: