Meet the Ford Focus That Packs an Extra Punch
While Ford's (NYSE:F) Focus ST is the top-of-the-line trim for the hatchback — at least in America — that by no means implies that it is the performance ceiling for the vehicle. And tuning firms and customizers are finding that fact out.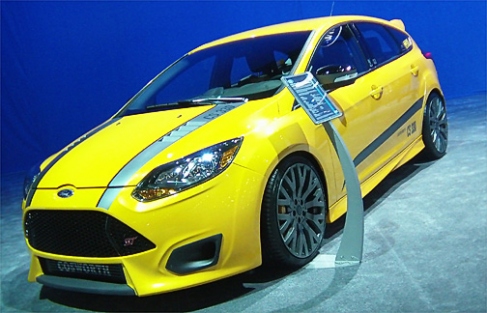 Stock from the factory floor, the ST boasts 252 turbocharged horsepower, 154 miles per hour top speed at the racetrack, but also 32 miles per gallon for highway driving. However, the Ford achieves these figures from a turbo-charged inline four-cylinder engine, which is a fresh canvas in the eyes of those wishing to improve the car's performance.
Recently, Cosworth — one of the biggest names in the aftermarket business and famed for building some incredibly potent racing engines — got its paws on the Focus ST, and in partnership with M&J Enterprises, set about overhauling the car to suit the taste of the more adrenaline-seeking driver.
A Cosworth CS 330 Edition body kit with front spoiler, a carbon fiber center and brake ducts, side skirts, roof spoiler, rear skirt, and carbon fiber diffuser were all added to the exterior to ensure the aerodynamics would be able to match the power being put under the hood.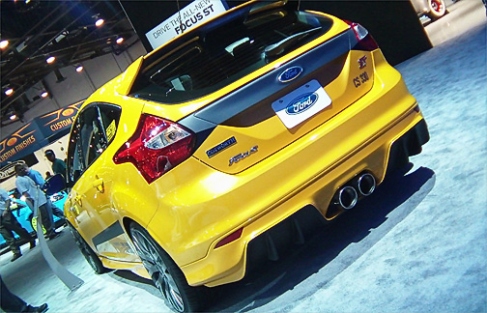 Though the 2.0 litre EcoBoost was left in place, it was made over almost in full by the folks at Cosworth, who threw in an upgraded turbo and intercooler, forged pistons with connecting rods, high-performance cams and gaskets, a Ford Racing air intake and cat-back exhaust, and a jacked-up ECU.  All said and done, the overhauled car will put out about 330 horsepower and 323 pound-feet of torque.
While hot-hatch tuning has long been a tradition in Europe, America has not yet gotten into the practice. With M&J's new Focus ST though, it seems as though the emerging market is getting off to a strong start.
Don't Miss: Ford Escape and Buick Encore Flunk SUV Crash Test.