Model S Demand Outgrowing Tesla's Own Factory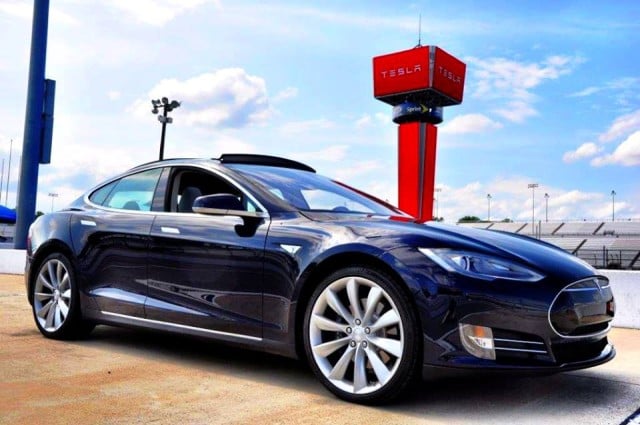 Tesla Motors (NYSE:TM) has a new problem, but it's a good one to have. Not only is demand for the electric car manufacturer's iconic Model S outgrowing its supply, but the whole Palo Alto, California-based company in general is outgrowing its single factory in Fremont, California.
That's why Tesla needs to not only build more factories in the U.S., but also in Europe and Asia where it has now begun selling its popular $70,000 premium battery-operated sedan. According to Bloomberg, these new factories will not only need to support the production of the Model S, but also that of a planned mass-market battery car whose launch date has yet to be unveiled.
In addition, don't forget about the Model X electric sport-utility vehicle — that SUV will soon go into production at the Fremont plant late next year and will likely see a high demand as well, especially thanks to its lower price tag. But, for now, Tesla is still concentrating on its Model S which it forecasts to sell 21,000 units of by the end of 2013. The company's Fremont, California plant will have to sustain double that in 2014, and with Chief Executive Officer Elon Musk offering up the sedan to his European and Asian customers as well, the automaker is feeling the tug as his lone factory in the Golden State.
Tesla produces 500 Model S vehicles there a week and is shooting to increase its pace of production 35 percent by next year. That puts the company producing 40,000 sedans annually — a lofty target but one that Musk is confident the automaker can match.
Adding factories in Europe and Asia will also eventually help minimize the pains of producing in the U.S. and then assembling overseas. As of now,  Bloomberg reports that the company only has a small facility in Tilburg, Netherlands, which receives the Model S components shipped from California to Europe, but that will hopefully change soon.
As Musk starts making plans for the future of factories in Europe and Asia, he maintains that he'll keep the location of his consumers in mind, asserting in an interview with Bloomberg Television, "We'll try to locate those close to where people are, close to where the customers are, to minimize the logistics costs of getting the car to them. I think long term you can see Tesla establishing factories in Europe, in other parts of the U.S. and in Asia."
Thus, the U.S. automaker has a lot of planning to do, and it is all thanks to the success it is currently riding on after posting an ever-better-than-expected earnings report in early August. The company has made headline after headline this summer after only recently realizing its first profitable quarter, but it's safe to say things have all but gone up since then.
Earlier this week, we learned that its iconic Model S received top crash and safety ratings by the National Highway Traffic Safety Administration and Consumer Reports even recently ranked it the best car it has ever tested. Reviews such as those are only helping to boost the number of orders Tesla receives for its premium sedan as well as helping its stock skyrocket more than 300 percent. It doesn't look like Tesla's success story is ending anytime soon. Not only does it have its Model X electric SUV in the wings, but another lower-priced mass-market battery car is also already in the planning stages.
Musk recently admitted to CNBC that his company's recent growth has really wiped him out, but the innovative CEO plans to keep chugging along, maintaining, "I'm often tired. I think I get far too much credit for the success of Tesla. The reason that we've been successful here is because we have a team of some people who work super hard. I'm the one who talks about the results but it's not me who did it really, it's the team here who did it."
Don't Miss: GM Reviving Old Strategy: A Car for Every Purse and Purpose.