More Cars, More Jobs, and a Better Economy?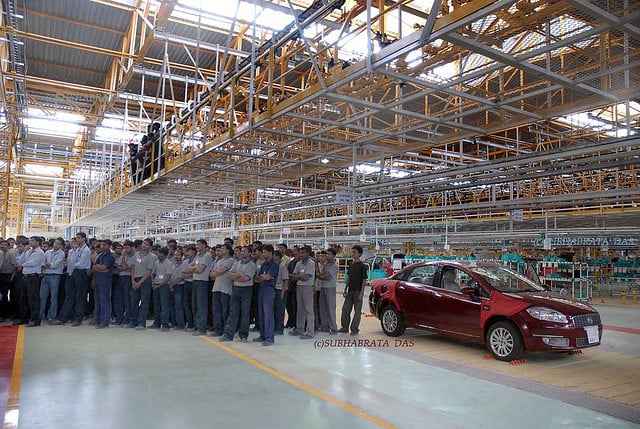 The auto industry may be showing great signs for its health and could do a lot to improve the health of the United States economy pretty soon. Many companies are expecting high sales this year, and they need more employees to make the supply meet the demand.
The second half of the last decade wasn't so hot on the U.S. economy, nor was it great for the auto industry. In 2005, there were more than 1.1 million autoworkers making vehicles and parts in the U.S. After massive layoffs during the economic crisis, that figure dwindled. Today, there are 798,000 workers in the industry, but that's still short of what it once was. Wages and compensation are also a bit lower than the were.
However, those numbers may become a relic attached to the economic crisis from which the nation could start distancing itself. The housing market is currently in recovery and strengthening itself, and consumer confidence is at a five-year high. This could help boost sales in other industries.
The auto industry has been helping along with the recovery by doing a share of hiring. From 2009 until now, auto companies have accounted for one-fourth of all manufacturing jobs added in the U.S., according to the chief economist for the Manufacturers Alliance for Productivity and Innovation, Daniel Meckstroth. The industry took on a bulk of hiring despite only being home to 7 percent of all U.S. manufacturing jobs.
For helping the economy recovery, auto companies could see some major perks coming back its way.
Estimates for 2013 vehicle sales are as high as 15.5 million vehicles. This compares to a low of 10.4 million in 2009. LMC Automotive, a forecasting firm based in Troy, Michigan, estimated that sales could even rise to 17 million in 2017 — close to the levels of the automotive boom around the turn of the millennium.
To meet the increase demand for vehicles, manufacturers are going to have to hire even more people. Mel Stephens, a spokesman for Lear Corp. (NYSE:LEA), said, "as volume goes up, we will really need to add heads." However, many factories are already operating at 95-percent capacity, which means they will also be investing in extra space and equipment.
From January to May, the U.S. auto industry has added 8,000 new employees. By the end of the year, that figure is expected to reach 35,000, according to The Center for Automotive Research.
Chrysler is planning to hire 3,500 new employees in the Indiana-Ohio-Michigan tri-state area. Ford (NYSE:F) has plans to add 3,600 new employees, as well as to recall 2,000 laid-off workers, in Michigan and Missouri. GM (NYSE:GM) will add 4,000 jobs in 3 southern states and Michigan. Even Honda (NYSE:HMC) will be adding at least 500 jobs.
The companies hiring the most are likely to be the ones expecting the biggest increase in business. This would suggest that Ford plans to take a significant chunk of the 15.5 million sales this year, and GM is biting at Ford's heels to get a nice share as well.
Don't Miss: Toyota Answers Competition with This New Corolla.