Ram's EcoDiesel Is Selling Like Hotcakes
It was no surprise that Chrysler's (FIATY.PK) decision to slide a 3-liter diesel V6 into the Ram 1500 was going to win some fans, but the rapid uptake of the new model seems to have even surprised the company. Within three days, Chrysler received orders through its dealer network for 8,000 of the trucks, the company said.
"The Ram 1500 is the only half-ton truck available with a diesel, so we see this as incremental business by having the only truck that can offer best-in-class fuel economy of 28 [miles per gallon] combined with 9,200 [pounds] of towing capacity," said Reid Bigland, the President and CEO of Ram, in the company's statement. "It's every truck manufacturer's dream to have this kind of initial order demand for a product. Fuel economy is the No. 1 request of half-ton buyers and the Ram 1500 EcoDiesel delivers without compromising capability."
The Ram's 28-mile-per-gallon highway rating sets a new standard for the segment, which has been slow to adopt to diesel-powered models, though that will be changing soon. Both Toyota (NYSE:TM) and Nissan (NSANY.PK) are talking about utilizing diesel engines from Cummins (NYSE:CMI) — formally an exclusive option through Ram — for their future half-tons, the Tundra and Titan, respectively. Ford (NYSE:F) and General Motors (NYSE:GM), meanwhile, seem more keen on using smaller engines and weight savings as a means to increase efficiency.
The unit is a 3-liter diesel made by VM Motori, an Italian-based engine manufacturer than makes many diesel units for Fiat Chrysler Automobiles, Ram's new parent company. The 3.6-liter Pentastar V6 gasoline-powered Ram netted 25 miles per gallon on the highway, but diesels — unlike conventional internal combustion engines — have shown that they can outperform the EPA estimates.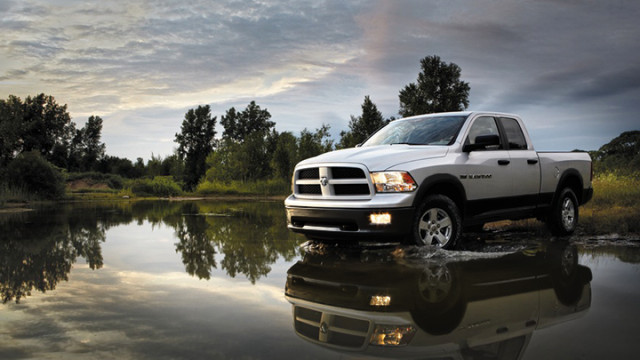 Ram says that although it reached its first planned order allocation numbers in just three days, the customers who special-order the truck will get priority in the build; the orders for dealer stocking will be filled once customer orders are filled and the next order allocation of the EcoDiesel trucks will open in early March, the company's press statement says.
It will be interesting to see if Ram decides to get back in the small truck segment to keep its foot in the door of the segment as Chevrolet launches the new Colorado alongside GMC's new Canyon. Toyota's Tacoma has so far dominated that category, but buyers who don't necessarily need a full-size truck are finding the pickings pretty slim.
More from the Wall St. Cheat Sheet: