Report: Ford Has a Special 2015 Mustang for UK and Australia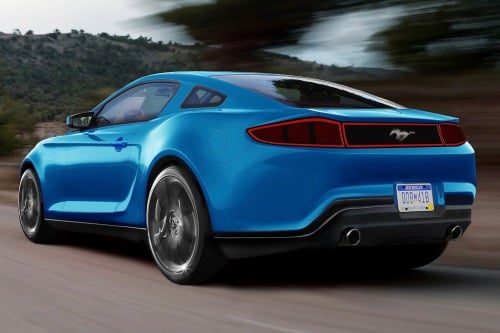 According to a report by Australia's Herald Sun, James Bond won't have any trouble driving the 2015 Mustang. Sources indicate that Ford (NYSE:F) will unveil a right-seat drive version of its iconic muscle car — and only the V8 performance model — in the United Kingdom and Australia.
The Herald Sun broke the story late last week, saying Ford would show off the righty version at the 2014 New York Auto Show. The Detroit automaker has only tried to market a right-handed drive in limited editions before. In the last effort (one decade ago), the Mustang cost over $90,000 and didn't sell well.
To avoid the same fate, Ford will price the 2015 righty Mustang near $50,000, according to sources. Only V8 performance models will go on sale Down Under and in the UK, adding an exclusive note to the car that will celebrate its 50th anniversary when unveiled next year. For Australia, it will start a chapter as another is closing.
Ford announced it would stop manufacturing its Falcon in Australia, and would shut all its plants in the country by 2016. The next-generation Mustang would replace the Falcon. Ford undoubtedly sees the right-handed drive model as a way to reconnect with foreign audiences.
The Herald Sun's sources say Jim Farley, Ford's global VP of sales & marketing, will be in Australia in mid-August to announce the news. The last time a righty Mustang was imported to Australia was the late 1960s. In 2001, Ford experimented by converting some of its cars for right-seat drive capabilities, but the costs were too high for the concept to work.
Ford will take a different approach to pricing this time around. Though it has already confirmed the right-drive version for the United Kingdom (its biggest market), the addition of Australia to this market would still represent under 10 percent of global sales for the car. For this reason, only premium models will be available for right-seat drive customers.
The $50,000 price tag would represent a jump of approximately $20,000 compared to the GT Mustang with a V8, which starts at $30,900. The cost of engineering the right-drive models accounts for the need to sell only premium versions abroad.
The cost of manufacturing the right-drive Mustangs was significantly lower than that of converting a Mustang built for American driving standards. As Ford phases out Australian operations, it will try to keep its brand on Australians' minds with the 50th anniversary edition of its classic muscle car.
Don't Miss: 8 Reasons Why Hybrids and EVs Are Beloved and Loathed.