Revealed: Ford's Fusion Hybrid Goes Autonomous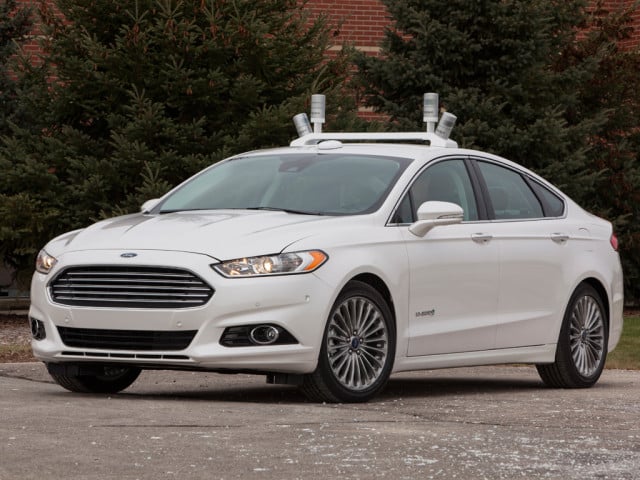 It appears that self-driving — or autonomous — cars are becoming more widely accepted throughout the industry, as manufacturers are initiating their own efforts to develop a driverless car. Ford (NYSE:F) is the latest company to reveal its autonomous car program, with the introduction of its work on a self-driving Ford Fusion Hybrid sedan.
Built in collaboration with the University of Michigan and State Farm Insurance, Ford revealed that its research into the subject has actually been going on for about ten years, and the company "envisions a future of autonomous functionality and advanced technologies after 2025."
"The Ford Fusion Hybrid automated vehicle represents a vital step toward our vision for the future of mobility," said Ford Executive Chair Bill Ford, in the company's statement. "We see a future of connected cars that communicate with each other and the world around them to make driving safer, ease traffic congestion and sustain the environment. By doing this, Ford is set to have an even greater impact in our next 100 years than we did in our first 100."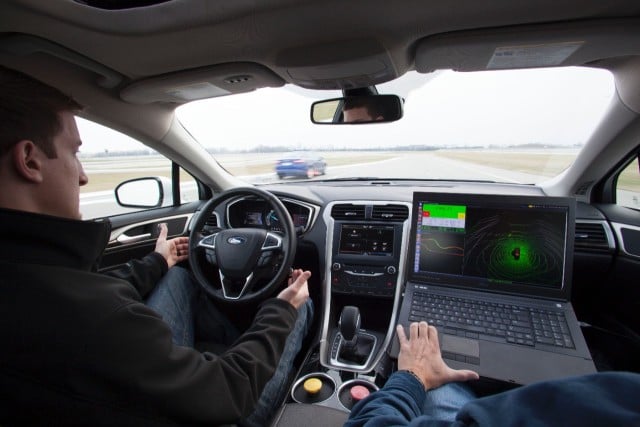 While autonomous driving has its critics, the goal is to help relieve traffic and congestion, and ultimately, make the roads safer. However, those resistant to the idea likely have reservations about relinquishing full control of the vehicle to a computer, and understandably so.
"In the future, automated driving may well help us improve driver safety and manage issues such as traffic congestion and global gridlock, yet there are still many questions that need to be answered and explored to make it a long-term reality," said Raj Nair, who is the group vice president for Ford global product development. "With the automated Ford Fusion Hybrid research project, our goal is to test the limits of full automation and determine the appropriate levels for near- and mid-term deployment."
Interestingly, the Fusion automated vehicle uses a lot of the technology that's already in place in today's vehicles on the market. Ford has then added "four scanning infrared light sensors — named LiDAR (for Light Detection And Ranging) — that scan the road at 2.5 million times per second," the statement explains. "LiDAR uses light in the same way a bat or dolphin uses sound waves, and can bounce infrared light off everything within 200 feet to generate a real-time 3D map of the surrounding environment."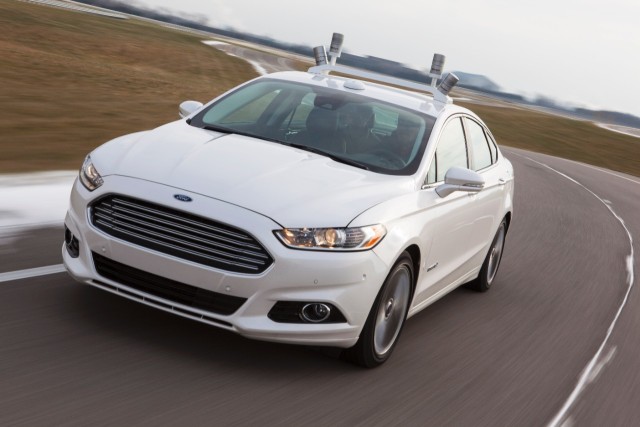 Ford explains that the LiDAR sensors are able track anything that is dense enough to reflect or redirect light, stationary or otherwise (vehicles, pedestrians, bicyclists, etc). The sensors are reportedly so sensitive, that they are able sense the difference between a paper bag and a small animal — at nearly a football field's length down the road.
The LiDAR sensors are combined with Ford's own Blind Spot Information System, active park assist, lane-departure warning, adaptive cruise control, and collision warning with brake support, all of which can be found on existing vehicles.
"Products such as [the] Ford Fusion Hybrid give us a head start in the development of automated features," said Paul Mascarenas, who is the chief technical officer and vice president for Ford research and innovation. "Our Blueprint for Mobility aligns the desired outcomes of our work in automated functionality with the democratization of driver-assist technology found on today's lineup of Ford products."
Don't Miss: 12 Vehicles Racing to Be 2014′s Truck/SUV of the Year.