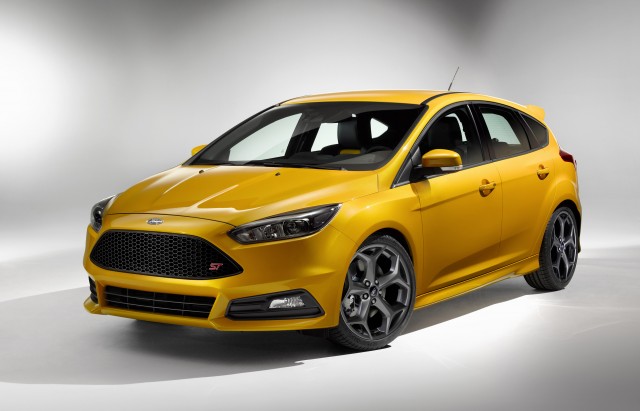 Here it is — ahead of its 2014 Goodwood Festival debut. This is the 2015 Ford (NYSE:F) Focus ST, which alongside the Volkswagen GTI, is perhaps one of the most important cars in America's hot hatch renaissance. Bred in Europe, the Focus ST isn't just an American translation of big muscle in a small package; it was made specifically to do battle with the likes of the VW on its own turf, and actually came to America after the fact.
"Since its debut, Focus ST has been bringing our fun-to-drive DNA to the hot hatch segment with a uniquely Ford blend of driving dynamics, performance, and style," said Raj Nair, the Ford group vice president of Global Product Development. "Now, with improved dynamics, an updated suspension, new styling, and a more sophisticated remain the hottest hatch worldwide," he said in Ford's statement.
Right off the bat, you can see there isn't a whole lot of dramatic change made to the 2015 model over the current generation — thankfully. It still has that gaping grille up front, but thanks to a more muscular lower fascia, it looks a little bit less catfish-like than it does on the 2014. The headlights have been tightened up a bit to put the car more in line with the 2015 generation of the base Focus, and the hood has received some extra sculpting for a more aggressive look.
"The design of the new Focus is stronger and sportier, and that allowed us to make the new ST even more aggressive and dramatic," said Moray Callum, who is the Ford group vice president of Global Design. "The front bumper is deeper, the honeycomb upper grille is higher and more upright, and the lower grille is larger. The deeper rear bumper really emphasizes the width of the car."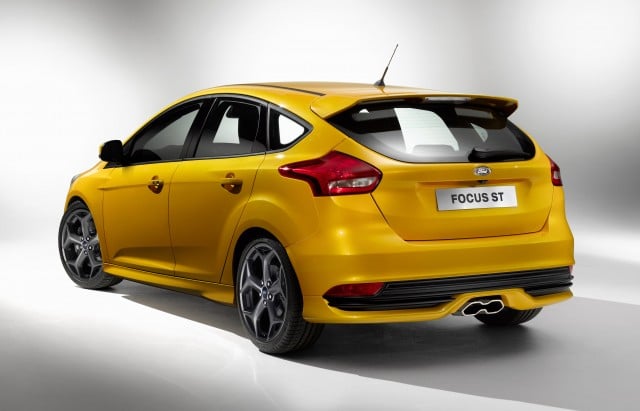 The rear of the car has received a similar treatment: the lights have been cleaned up a bit, the rear fascia has been lightly redesigned, and overall, the back looks clean, simple, and nicely put together. The black accenting now continues through the rear bumper, bypassing the dual mid-mounted exhaust port, whereas the 2014 model's pipes broke through it entirely.
Among the changes, there are now two over-the-top stripe options with which buyers can adorn their new whips. There's a Satin Black option, or a High Gloss Red option, and either choice includes matching mirror skull caps. Steering has been improved on to give a better feel, and the suspension — a crucial element in hot-hatchery — has also had a good going-over to help improve the ST's driving dynamics.