Saleen Tackles the Tesla: New Suspension, Aerodynamics Are in Order
Steve Saleen has made his name on taking Ford (NYSE:F) Mustangs, already high-performance vehicles (especially the models that he works with), and turning them into racing-driven, higher-performance asphalt-eaters. Saleen and his team also branched into other nameplates — Camaros, Challengers — and supercars built from the ground up, like the S7 of Bruce Almighty fame. Saleen also played a role in developing the latest Ford GT. For his most recent project, none of that really matters.
Back in October on the sidelines of the Los Angeles Auto Show, Saleen dropped the rumor that he and his firm were working in an electric car. Though chided by reporters at the time for revealing such hints and then walking away from it with no further elaboration, he remained mute on the subject until just recently, when an official press release from Saleen revealed that he was working on a Tesla (NASDAQ:TSLA) Model S, arguably one of the most disruptive forces on the auto industry in recent memory.
"Tesla's values are not a departure from our core values of elite power, style, and performance. I have admired their craftsmanship," Saleen said in the release. "And now with our upcoming entry into the electric car market with a revolutionary design all our own, we share a desire to also produce vehicles that are not dependent on fossil fuels and which accomplish this fuel independence with a tremendous assemblage of grace and technology."
Let's make it clear: Saleen isn't working on a hopped up Chevrolet Volt or Nissan Leaf. Though those are great cars in their own rights, the Tesla Model S — a four-door sedan — provides nearly 420 horsepower in its top-spec trim, and its 443 pound-feet of torque is available instantaneously. In short, it's a massively quick car. The Wall St. Cheat Sheet spoke with Steve Saleen after the announcement to further discuss his new and ambitious project, and it was revealed that the Tesla is only a spearhead for Saleen's electric vehicle ambitions.
But why a Tesla? Why not focus on the new Mustang, the new Camaro, or something familiar and more conventional? Why not stick to gasoline and high-output V8s? As Tesla CEO Elon Musk seemingly believes, and as Saleen himself said back in October, "electric vehicles are not a fad. That is a trend." So there you go.
"[Tesla] really has done an excellent job. The reviews in all the magazines — the car certainly deserves all of that," he told the Wall St. Cheat Sheet. "Having said that, I think anything can be done differently, too. I think that's where a company like ours [can] decide that we want to take the vehicle in a little bit of a different direction, like some of the work we've done in the past with the Mustangs, Camaros, and the Challenger. So following that structure, [the Tesla] fits well into our business model."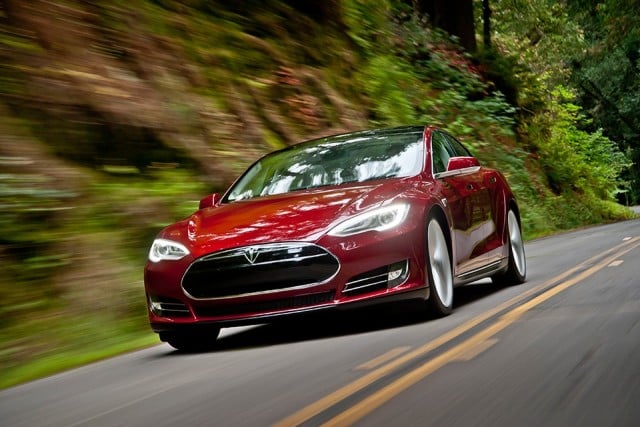 That's great and all, but playing with a Tesla is a completely different animal. One can't simply upgrade the supercharger, add an exhaust with a better flow, swap out the intake for better breathing, and the usual modifications that one would see on a conventional internal combustion engine.
Mr. Saleen's not concerned, though. When asked if his new Tesla would be optimized for racing, much like his Mustangs and muscle cars of the past, he said that the Model S would be designed along those lines in the form of some new aerodynamics, new materials (carbon fiber?), and some tinkering with the vehicle's suspension. Power, however, from the Model S' battery pack and electric motor, may be harder to coerce.
"Our intent is to certainly improve the level of performance, some of that we'll do aerodynamically, through body changes; and some of the materials that we'll use — obviously, the suspension will be something that we'll look at." Saleen said. "We're still in development on the power, so the jury's still out on whether that will be effective or not. But we'll do as much as we can, and still keep the integrity of the vehicle intact so we don't harm the safety or operational aspects at all."
With the Tesla, this is easier said than done. The heart of the Model S is software and code, which allow the company to issue over-the-air updates to user's vehicles for whatever the reason. The power output of the car is closely intertwined with the car's software, so Saleen will have a set of parameters in which to work — a boundary that isn't really there for gasoline vehicles.
Given that Saleen's company's background is so heavily rooted in internal combustion, an electric car requires a vastly different approach. We asked Mr. Saleen if he was planning on bringing in others from the industry, since there is no official tie-in between Tesla and Saleen.
"Right now, there is no relationship directly with them, but we'll see over time what develops. We certainly respect them as a company and their product," he said. "You'll see another announcement where we are connecting with what we call a strategic partner, to help develop some things with electric vehicles. So when we kind of go into that, you'll see there's a little bit more of a method to our madness."
As we said earlier, the Tesla is only the spearhead of Saleen's electric ambitions. As it turns out, there are more vehicles in Saleen's skunkworks, including another supercar to follow up the S7 (pictured.) Electric or not, he wouldn't say. What he did say, though, is that the third project was being worked on in cooperation with the Art Center College of Design in Pasadena, California, where there are such names as J. Mays – Global Design and Chief Creative Officer for Ford — and Chris Bangle, Chief of Design for BMW Group.
Again, Saleen shed little light on that project as well, though he indicated that for years, the Art Center has been "working with the transportation department to develop a form of electric transportation," Saleen said.
Whether Saleen's next supercar will look like the S5S Raptor that was revealed in 2010 is anyone's guess, but all this recent news leads us to believe that Saleen and his company are truly headed in a new direction. If anyone still doubts the viability of electric vehicles, the decision by Saleen — of all people and companies — to side with Tesla is a potent statement about the industry.
It will also be interesting to see where Saleen's new-found affinity with Tesla will lead as Tesla itself continues to grow. A Saleen Model X might not be entirely likely, but a Saleen Model E once its released? Why not?
More From Wall St. Cheat Sheet: