Sales of Chevy's Spark Are on Fire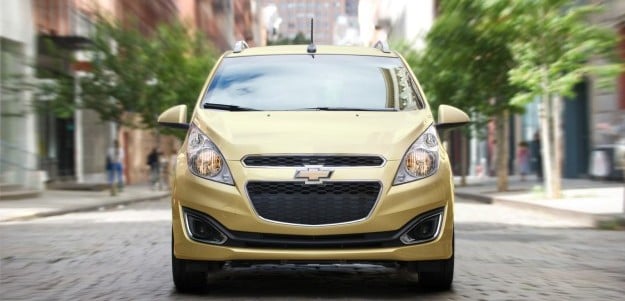 General Motors' (NYSE:GM) Chevrolet Spark has been advertised as the perfect driving solution, "designed to fit into your life and city." As it turns out, Chevy couldn't be more right — sales demonstrate the Spark fits quite nicely into Americans' lives. According to Autoblog, after only 12 months in the U.S., the car has been credited with 26,869 sales, surpassing GM's estimates for the hatchback by more than 35 percent.
The Spark only entered the U.S. auto market last year, despite being introduced in other global markets in 2009. Though Chevy has seen significant success with the vehicle, logging sales of 720,000 units worldwide since its introduction, the automaker didn't expect it to garner as much popularity in the U.S. auto market, where drivers are more likely to gravitate toward full-size pickup trucks and SUVs. American sales have dramatically exceeded expectations.
Whether consumers are attracted to the Spark's low price ($14,563 on average) or its wide palette of colors, the car's size and flashy hues are certainly luring in customers.
Perhaps Tesla Motors (NASDAQ:TSLA) should watch out, because the Spark's popularity may only grow as an electric form of the vehicle will be launched this year in the Spark EV. While Mitsubishi's MiEV can get drivers 75 miles before needing a recharge, the Nissan Leaf can only make a slightly better 80-mile promise. Tesla's Model S has been the brightest option for drivers thus far, offering 150 miles of non-interrupted driving — but pretty soon, Chevy may be poised to take the electric car throne.
CEO Dan Akerson in March announced the company's plans to eventually produce a 200-mile range electric vehicle. The 2014 Chevy Spark won't yet have that kind of mileage guarantee, but the vehicle's success thus far provides an optimistic outlook for the future.
Chevy promised more than just the Spark EV for its lineup; the 2014 Spark will also be available with new tech-savvy features like the company's MyLink+ as well as Siri eyes-free technology. And while drivers will no longer be able to zip around in a Techno Pink paint job, a new purple hue called Grape Ice will make its debut.
Don't Miss: Does Toyota's CEO Provide the Best Bang For Your Buck?