Setting Lofty Goals Is Now Business As Usual For Tesla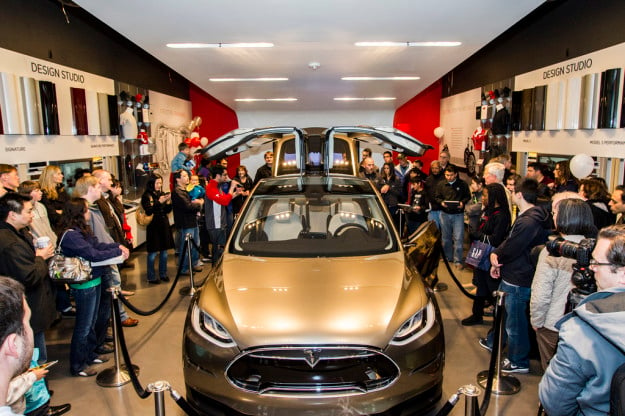 Tesla Motors (NASDAQ:TSLA) has nearly tripled in market value this year, but that is not the measure of success towards which Chief Executive Officer Elon Musk is working. He believes that the company can manufacture its luxury electric vehicles efficiently enough to eventually match the gross profit margin achieved by Volkswagen-owned Porsche. In fact, at Thursday's annual shareholder meeting, the CEO set a goal of attaining a 25 percent gross margin this year.
However, it was just last month that Tesla truly found its financial footing after more than ten years in the business, generating its first quarterly profit ever. The company's Model S sedan gained recognition for quality as well, with Consumer reports giving the vehicle an unprecedented, near-perfect score of 99 out of 100. Together, these two events sent shares on an upward tear; the stock closed the first trading day of the year at $35.36 while it closed Thursday at $97.35. Investor demand — which is clearly evident in the company's increased market value — enabled Tesla to raise $1 billion from selling equity and debt, funds that were then used to retire a $465 million U.S. Energy Department loan nine years early.
With these key milestones met — becoming a profitable company and repaying the government loan — Tesla can now turn its attention to other operational targets, including gross margin. Gross margin, which is the percentage of revenue that remains after production costs are deducted, came in at 17 percent last quarter. The problem is that capital expenditures to support expanded Model S production and to begin assembling the electric Model X sport-utility vehicle next year will hold back profitability.
"I would expect our capex to be higher than Porsche's for some time to come," said Musk, at the meeting, according to Bloomberg. "On gross margin, I think we can get close to exceeding Porsche's over time."
Gross margin is not the only goal on Musk's list. As set forth in his long-term incentive plan, Tesla wants to hit a market capitalization of $43.2 billion by 2022, which according to an in depth analysis will require the electric car manufacturer to sell 540,000 Tesla vehicles per year. However, that sales figures is dependent on boosting sales, exposure, and affordability significantly; the company is expecting to sell just around 35,000 cars this year.
To reach that goal, Tesla is strengthening its sales operations; it expects to have 50 stores open by the end of the year, a 47 percent increase from the 34 stores that were open at the end of the first quarter. The company has thus far eschewed the traditional method of selling automobiles, opting to use a direct-to-consumer method rather than dealerships, and Musk has argued that directly selling has saved the brand from extinction. Still, the company is looking for ways to reach a broader portion of the market, and, towards that end, plans for a lower-priced electric car are being developed.
Despite the challenging road ahead, Must remains confident. "Forgot to say one thing at Tesla annual shareholders meeting," he tweeted Thursday. "Just as my money was the first in, it will be the last out."
Follow Meghan on Twitter @MFoley_WSCS
Don't Miss: Here's How Opposing Sentiments Won the Market Together.