Sorry, Microsoft: Mulally Wants to Stick with Ford Through 2014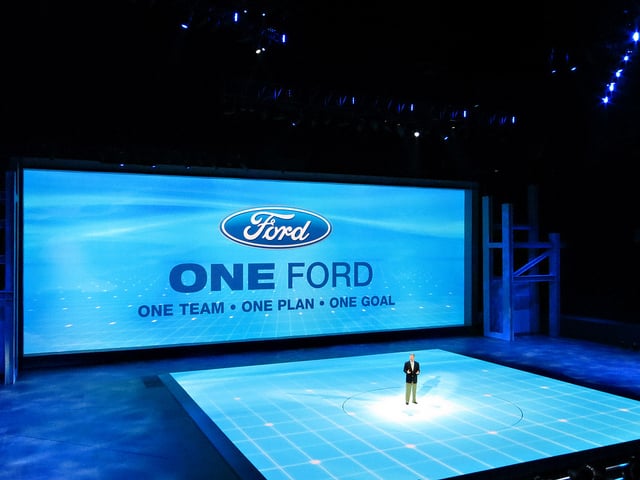 Ford (NYSE:F) CEO Alan Mulally told Bloomberg that he will stay on as the automaker's CEO until the end of 2014 after reports that the board would allow him to leave early, if he so desired, came out Thursday night.
Reuters reported that Ford's board has become more comfortable with the idea of Chief Operating Officer Mark Fields taking over as CEO of the company and so told Mulally he could step down sooner than previously planned, according to two people familiar with the matter. It has been speculated that the 68-year-old Mulally will pursue another high-profile job after his time at Ford, including possibly taking over for Steven Ballmer as CEO at Microsoft (NASDAQ:MSFT), or possibly a role in the Obama administration.
Mulally responded to the speculation in an email to Bloomberg, in which he said, "I plan to continue to serve as Ford's president and CEO until at least the end of 2014." That's how long he had been expected to stay with the company until the Reuters report came out Thursday.
Mulally is widely credited with saving the No. 2 automaker in the U.S. in the wake of the financial crisis. He was able to borrow $23 billion to avoid bankruptcy and government bailouts taken by Chrysler Group and General Motors (NYSE:GM), and initiated a business plan he called "One Ford" to create a more collaborative atmosphere at the company and streamline product development.
The fact that Ford's board is feeling confident enough to let Mulally go is evidence of his success of changing the company's business culture. Mulally is currently in Europe, a market where Ford has been hit hard due to the struggling economy, to promote the new S-MAX sport utility vehicle. Ford has partnered with Microsoft on some of the cutting-edge technology featured in the vehicle, including seats that monitor heart rate and blood sugar.
Follow Jacqueline on Twitter @Jacqui_WSCS
Don't Miss: Is a Large-Screen iPhone Already in the Works?