Subaru's Next-Generation Outback Will Visit New York First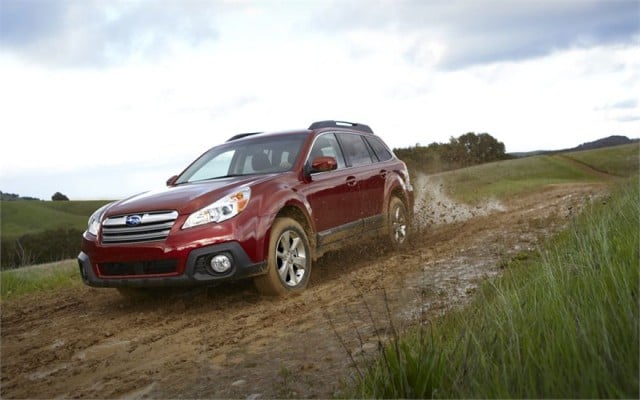 Outdoor enthusiasts and aficionados, get ready: the next generation of the Subaru Outback, the beloved wagon-turned-pseudo SUV, will be revealed at this year's New York Auto Show in April, on the heels of the revealing of the new Legacy sedan in Chicago.
It's likely that the new Outback will take after the Legacy, and if assertions by Car and Driver prove to pan out, the Outback will likely come equipped with either Subaru's 2.5-liter flat four or the more powerful 3.6-liter flat six, as it is currently.
Car and Driver also notes that interior fit and finish will likely be a big part of the Outback's overhaul, its first in about five years. Nonetheless, the Outback proves to be a steady seller, accounting for the second-most popular model Subaru's lineup last year.
Though much of its exterior styling is likely to be derived from the Legacy, we're hoping that the new Outback will in some ways mimic the oddly named but overall cool Levorg concept, which was unveiled at the 2013 Tokyo Motor Show. We're not holding our breath, however, given that Subaru has had some trouble living up to the buzz from its concepts recently.
Subaru's standard all-wheel system is most definitely a given, and we hope that the company opts to keep the manual transmission option available, rather than going exclusively with the CVT, like it did with the new Legacy.
On the tech side of things, watch out for a new infotainment system, new safety technology, and some added bits to enhance ride comfort. Autoblog points to liquid-filled engine mounts, an acoustic glass windshield, and increased sound deadening.
Car and Driver asserts that both the Legacy and Outback will go on sale this summer, in the June-July timeframe. No plans are in place to bring a Legacy wagon to the U.S., so the Outback will be charged with filling that role.
More from Wall St. Cheat Sheet: