Tesla Conundrum: Analysts Drive Gains, States Put Brakes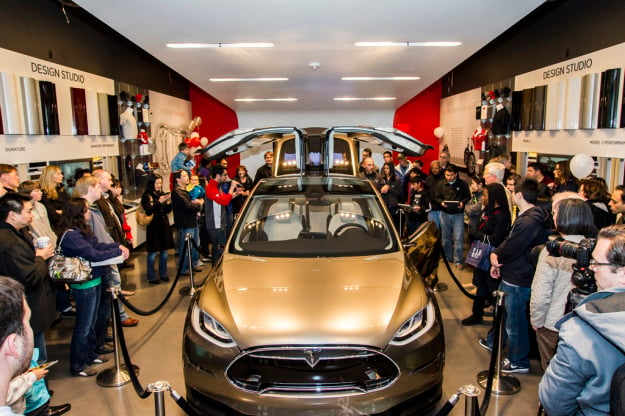 When the calendar flipped from 2012 to 2013, a new leaf was turned over for the electric vehicle manufacturer Tesla (NASDAQ:TSLA) as well; since the beginning of the year, shares have more than tripled in value. But this increase has not caused at least one analysts to worry that the stock has run out of room to grow. Jefferies analyst Elaine Kwei raised her price target on Tesla from $70 to $130, which, in turn, pushed the electric vehicle maker's stock even higher. Shares gained 9.1 percent Monday afternoon, hitting $117.18, their highest closing price ever. They even brushed $120 on Tuesday morning.
Kwei also increased her estimate for 2013 Model S sedan production from 19,800 to 21,500, which is a true sign of how far the company has come in the past year. Production of the Model S only began in June 2012, and as of September 23, only 255 vehicles had been built, putting the company far behind schedule. Slower-than-anticipated production caused the company to lower its projected revenue for 2012 and kept its stock price down in the $20-per-share range.
"Despite the massive run in the stock, we believe TSLA is one of the best growth stories in the market today and still has upside," Kwei wrote, referring to Tesla's ticker symbol. The analyst cited higher Model S sales and better profit margins as the "potential positive catalysts" driving the company's growth.
The Jefferies analyst also outlined three major outside factors that will help boost sales: growth in the full-size premium sedan market, the expanding alternative vehicle market, and the increasingly strict federal regulations for emissions.
First, Kwei and fellow analyst Peter Nesvold noted that Tesla is benefitting from sales growth in the full-size premium sedan market. The main competition for Model S sedan is not the Nissan (NSANY.PK) Leaf or the General Motor's (NYSE:GM) Chevy Volt, but rather the BMW 5/7 Series, Daimler's (DDAIF.PK) Mercedes E/S class, and the Audi A6/7/8.  In 2012, sales of those type of vehicles in the United States amounted to 210,000 units, or 1.5 percent of the U.S. market, and this year through May, luxury sedan sales rose 10.4 percent. The analysts said that if Tesla's Model S was excluded from that figure, the growth rate for that vehicle class would only be 0.8 percent. Furthermore, provided sales of the Model S continue growing at the same rate they have been this year, Tesla will make up about 9 percent of the relevant market. "We think that's a tremendous accomplishment for a new all-electric vehicle competing against some of the finest automakers in the world," Kwei and Nesvold wrote.
But Tesla will also see its market share grow as electric vehicle penetration increases. Kwei and Nesvold noted that sales of hybrid and plug-in hybrid electric vehicles (PHEVs) have risen this year as new models have hit the market, including two new Prius models from Toyota (NYSE:TM), Ford's (NYSE:F) C-Max and Fusion. In fact, the analysts said that Tesla is the primary driver of year-over-year electric vehicle sales increases. So far this year, approximately 17,500 all-electric vehicles have been sold, with the Model S and the Nissan Leaf making up the vast majority of those units. They expect the PHEV/EV market penetration rate to be 1.1 percent, about 18,000 units, by 2017 and 2.1 percent by 2020.
While some have argued the high price tag of Model S, which sells for about $60,000 for the base version, is far too high to successfully compete in the electric vehicle market, others say it appeals to a different buyer than the Leaf or the Volt.
What is a problem for Tesla is the push by state legislators to pass laws preventing online car sales by businesses that are not licensed car dealerships. Instead of utilizing dealership as major automakers like Ford or Toyota do, Tesla sells its electric vehicles through "stores" in upscale shopping malls and through the Internet. The company has chosen this sales strategy because the high-tech stores provide a setting for customers to ask questions without high-pressure sales tactics, and it also keeps costs down.
However, Chief Executive Officer Elon Musk has taken to Twitter to garner support for a petition to the Obama administration that argues "states should not be allowed to prevent Tesla Motors from selling cars directly to customers."
Follow Meghan on Twitter @MFoley_WSCS
Don't Miss: 7 Electric Cars Made for the City and a Budget.