Tesla Cuts the Ribbon on Its First China Showroom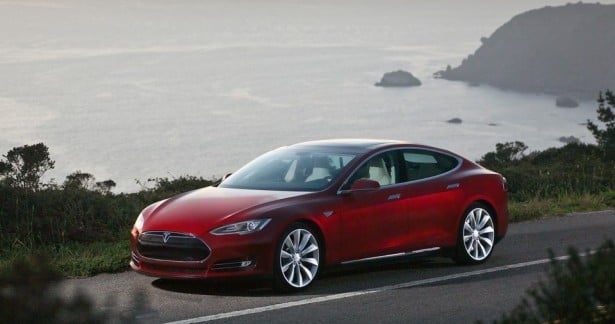 Where in the world is CEO Elon Musk? Well, he's in China of course. Tesla Motors (NASDAQ:TSLA) is working to crack the world's largest auto market, and it began its efforts over the weekend when the carmaker opened its first showroom in the country, registering pre-orders from customers at its new Beijing location.
According to China Daily, Tesla is still awaiting government approval for the import and sale of its popular electric cars, but while Musk waits, the Palo Alto, California-based company is showcasing its illustrious four-door sports vehicles in China, and allowing customers to make pre-orders.
Many Chinese consumers have shown an interest in purchasing the pricey vehicle, and Tesla now expects its 100-car allotment for the country to run out fast. In order to sign a pre-order contract, buyers have to put down a 250,000 yuan, or $40,000 deposit, to add their names to the waiting list, but their readiness to do so has demonstrated that they are not dissuaded by the Model S's high price tag.
Tesla expects the cost of its various models to stand between 900,000 yuan and 1.2 million yuan in China, while the Model S sells in the U.S. anywhere from $70,000 to $100,000. The sedan has proven popular in its home country, especially in California where it has registered 4,714 new Teslas, but many auto buyers are still locked out of the Model S market due to its exorbitant price, and that's a reality that the automaker is working hard to someday fix.
Many consumers in China, on the other hand, have shown an eagerness to hand over the big bucks for the next best cars, and analysts expect the trend to continue for the Model S. According to China Daily, Zhang Junyi, a Roland Berger Strategy Consultants auto analyst, explained that there will always be wealthy people willing to try the pay the high price tags and, "Compared to the millions of yuan prices and super sports cars, the cost of the Model S is reasonable and competitive for those who want an eye-catching trophy."
For Musk's sake, hopefully Junyi is right, because the CEO is looking to sell 20,000 vehicles in 2013, doubling that figure to 40,000 in 2014, and it isn't look like the Model S price tag is going down anytime soon.
China is an especially important market for Tesla because it is now not only  the world's largest auto market, but it is also one that has been slow to adopt the electric-vehicle craze, and Musk sees an opportunity to change that reality.
For now, Tesla must wait for government approval, but once it is awarded, the automaker will begin delivering its cars to the lucky customers on the pre-order list. It is possible that customers in China may have to wait until next year for the first batch of Model S vehicles to arrive, but many agree that it is worth the wait.
Don't Miss: 10 Cars That Absolutely Killed It in October.