Tesla Gets Burned Again With Hot Metal Spill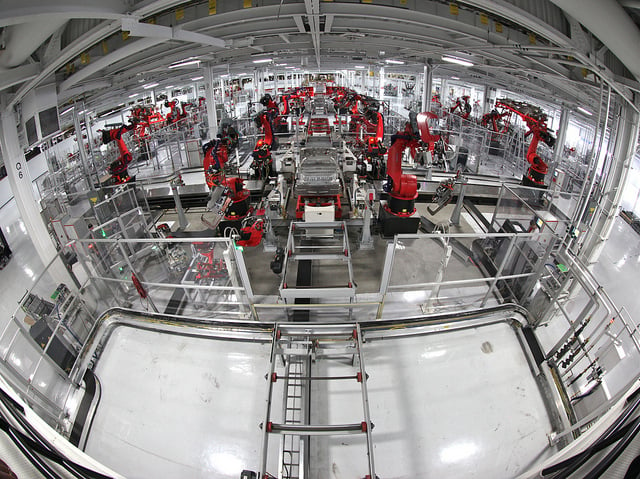 Just one day after Elon Musk was drilled over his controversial Model S at the New York Times' Dealbook Conference, the CEO had another problem on his hands. Three words: hot metal spill.
According to CBS News, three workers at Tesla's (NASDAQ:TSLA) factory in Fremont, California suffered injuries Wednesday when an aluminum casting press failed and one employee was seriously hurt, while the other two sustained minor injuries. Greg Siggins, spokesperson for the California Occupational Safety and Health Administration, explained that, "Hot metal somehow burned the workers," and ensured there was no fire inside the plant. The spill occurred shortly before noon, and consumers were first alerted of the issue when the first social media leaks went out.
#Breaking Chopper 5 is over the @TeslaMotors factory in #Fremont. We just saw an ambulance leave the area enroute hospital. @CBSSF

— Brian Dinsmore (@DinsmoreDesk) November 13, 2013
Once Musk caught wind of the situation, he stated in an email that he planned to "to visit them in the hospital later today and will personally ensure that they receive the best possible care."
According to CBS News, the incident will be treated as an industrial accident, and Siggins assured that, "We will be talking to any witnesses, reviewing training documents and manuals to see if they are in accordance with specifications as part of finding out what happened."
Industrial accidents are certainly not unusual, and many even go unreported, but Tesla has been in the spotlight as of late while the Palo Alto, California-based company navigates the turbulence of three Model S fires in five weeks and a falling stock price. Despite Musk's insistence that the Model S is one of the safest cars on the road, there will be no recall, and the fires were simply freak accidents, many consumers still have voiced concern over the safety of lithium-ion battery cars.
Ever since the first fire that occurred in Kent, Washington on October 1, Tesla's stock has plummeted 29 percent and sat at $138.70 as of 9:30 a.m. Thursday morning. Prior to the stock plunge, the stock gained more than five-fold this year through Sept 30. Now, Musk and his team will work to get to the bottom of the latest incident and identify what caused the spill at the Fremont factory that was previously owned by General Motors (NYSE:GM) and Ford (NYSE:F). The most seriously injured Tesla employee received chest and upper-body burns, but one worker was able to released Wednesday afternoon.
Don't Miss: Lincoln's Resurgence, Part 2: The MKC Is Revealed.