Tesla Owner Answers Questions About Latest Model S Fire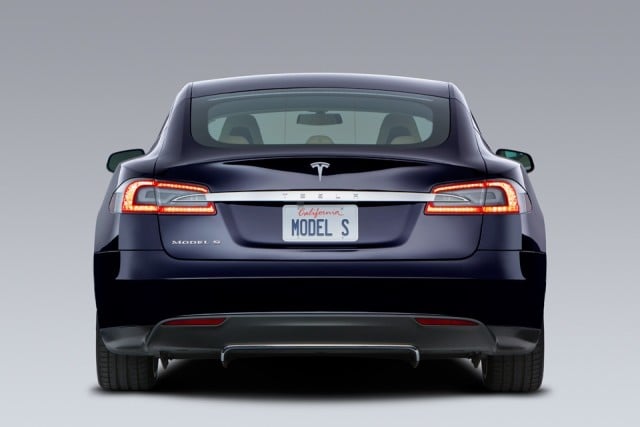 Another Model S fire, another Tesla (NASDAQ:TLSA) blog post. This time, though, the words are not coming from CEO Elon Musk, but rather the driver of the vehicle himself.
We learned about Juris Shibayama's Model S fire in Tennessee last week, when news broke that yet another sedan caught on fire after colliding with a trailer hitch in the middle of the road. The report sent Tesla stock plunging as investors again questioned the true safety of lithium-ion battery vehicles, but a blog post helped save the day Saturday, when the driver of the Model S penned a letter that was published on Tesla's website, detailing exactly what happened that Thursday and why he was actually thankful that he was driving a Model S vehicle.
Shibayama meticulously explained in his post the warnings he was given after his Model S hit a "rusty three-pronged trailer hitch" on Interstate 24, and he credited Tesla for effectively instructing him to pull over safely before the car shut down. Once he got his belongings out of the car, the driver explained that smoke started emerging from its underbody about five to 10 seconds later, and that about two minutes after he walked away, the front caught on fire.
Fortunately, like the other drivers in Model S fires, Shibayama wasn't hurt in the incident, and he maintained in his letter published on Tesla's blog Saturday: "I am thankful to God that I was totally uninjured in any way from this impact. Had I not been in a Tesla, that object could have punched through the floor and caused me serious harm. From the time of impact of the object until the time the car caught fire was about five minutes.
"During this time, the car warned me that it was damaged and instructed me to pull over. I never felt as though I was in any imminent danger. While driving after I hit the object until I pulled over, the car performed perfectly, and it was a totally controlled situation. There was never a point at which I was anywhere even close to any flames."
Shibayama's post helped mitigate investor worry that consumers will think twice about purchasing a Tesla vehicle after three fires in two months. Tesla shares were rising on Monday, up 3.03 percent at $141.91 as of 11:25 a.m.
The Palo Alto, California-based company has been known to rely on social media to get its word out, and this is the second blog post Tesla has published to help explain in layman's terms exactly what happened to produce the flames.
Though the Model S now has three strikes against it, Musk has continued to maintain the safety of lithium-ion batteries. Even the drivers of the vehicles seem to be happy with their purchases, and the CEO highlights their enthusiasm over buying new sedans. Shibayama, too, seems ready to invest again, as he asserted in his letter, "This experience does not in any way make me think that the Tesla Model S is an unsafe car. I would buy another one in a heartbeat."
Investors will just hope all other consumers feel the same.
Don't Miss: 7 High-Tech Automobiles Worthy of 2014.