Tesla Takes the Green-Car Credit Sales Crown

Tesla Motors (NASDAQ:TSLA) took the green-car credit sales crown this past year, according to a California Air Resources Board report released Wednesday. The state tally recorded that, from October 1, 2012, through September 30, Tesla transferred 1,311.52 zero-emission vehicle credits, allowing the company to pass the previous top sellers, Toyota Motor Corp. (NYSE:TM) and Suzuki Motor Corp.
According to Bloomberg, Suzuki was the next largest seller on the list, with 41.199, and was followed by Toyota and General Motors Co. (NYSE:GM), which both transferred 507.5 partial zero-emission vehicle credits. 
California requires automakers to sell electric or non-polluting cars in proportion to their market share in the state, reflecting more rigid pollution rules than national standards. Palo Alto, California-based Tesla represented its state well this past year, selling 32 times the number of ZEV credits than its biggest challenger on the list. Each of its Model S sedans generates as many as seven ZEV credits, and Bloomberg reports that Tesla's ZEV credits this year through June are already worth $119 million, or 12 percent of its first-half revenue.
California's goal is to get 1.5 million zero-emission vehicles on its roads by 2025, and many of the big-name automakers are already helping the state reach that target by continuing to roll out impressive lineups of fuel-efficient vehicles.
California residents are known for their proclivity to buy vehicles that boast good fuel economy, and they can now not only choose from Tesla, Toyota, and Suzuki cars, but also those on offer from Chrysler Group LLC, Honda Motor Co. (NYSE:HMC), Volkswagen AG, Subaru, and Jaguar Land Rover, as all these automakers contributed to the Golden State's ZEV credits this past year.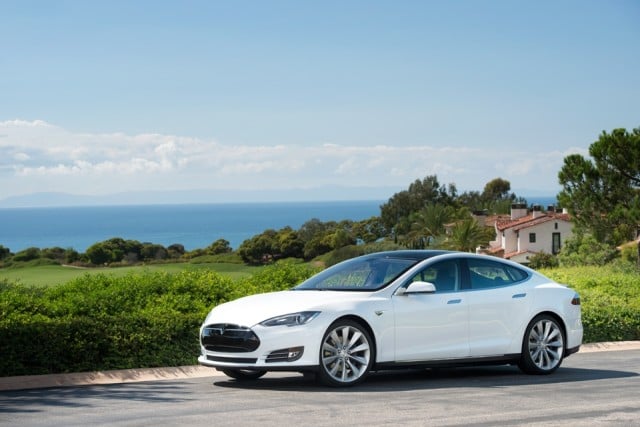 Tesla will now work to meet its 2013 ZEV goals with its hot-selling Model S sedan, which is priced from $70,000 to more than $100,000. According to Bloomberg, the electric car maker hasn't yet released its ZEV revenue for the quarter that ended September 30, but the company is expecting significant gains as it opens its Model S business to customers in Europe and Asia.
Toyota's Prius was the best-selling vehicle line in California through this year's first three months, but Tesla is soon hoping to surpass Toyota's totals as it gains momentum in the state; it hopes to sells 21,000 Model S sedans worldwide this year. It's possible that soon enough, Tesla will be on level playing field with other big-name U.S. and foreign automakers.
Don't Miss: Ford to Pull Back the Wraps on the New Mustang for a Lucky Few.