Tesla's Big, New Buyer and 2 Auto Stocks Going Places
General Motors Company (NYSE:GM): Closing price $27.91
Subaru of America and General Motors are recalling a small number of autos in the United States so as to check brake lines and steering wheel problems, according to federal safety officials on Tuesday. Subaru is recalling around 200,000 Legacy and Outback sedans and wagons from model years 2005 to 2009 to examine for corroded brake lines. GM is recalling 144 Buick Encores with heated steering wheels that were built between December 9 and 28 last year because the steering wheel could come loose or separate from the steering column.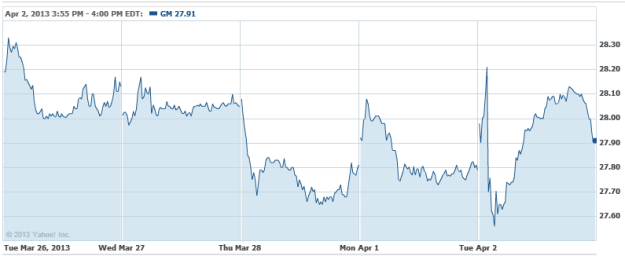 Ford Motor Company (NYSE:F): Closing price $13
The iconic automaker reported a healthy March sales gain of 6 percent, as buyers took to its redesigned Fusion sedan, Escape SUV, and its truck models. Both Fusion and Escape saw their best month of sales and best quarter ever, according to Ford. Explorer SUV was up by 33 percent year-over-year from 2012, posting its best month since its redesign in 2010. F-series truck soared, up by 16 percent, tallying the best first quarter since 2007, when the auto slump started.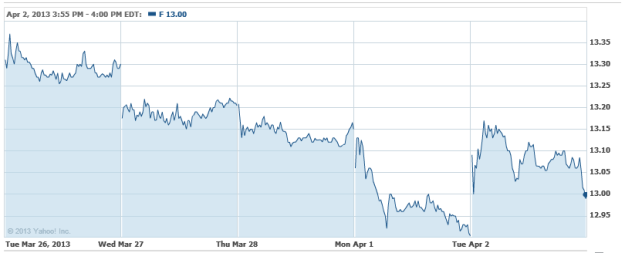 Tesla Motors (NASDAQ:TSLA): Closing price $44.07
Zappos Chief executive Tony Hsieh's Downtown Project just reported a new venture named Project 100, which is a complete transportation system for Las Vegas. For the cost of a monthly subscription fee, users will be permitted to borrow a car, get a driver thanks to an application, or take a bike for a ride. But the important thing is that participants will ride in a Tesla Model S, because the Downtown Project just bought 100 Teslas, says Tech Crunch. The accord with Tesla marks the biggest single United States reservation in Tesla's history.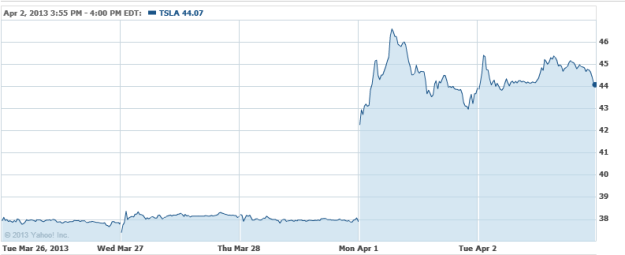 Don't Miss: Is The Ford Fusion America's Best Shot At Unseating The Camry?