Tesla's Focus on Germany: 10,000 Car Sales a Year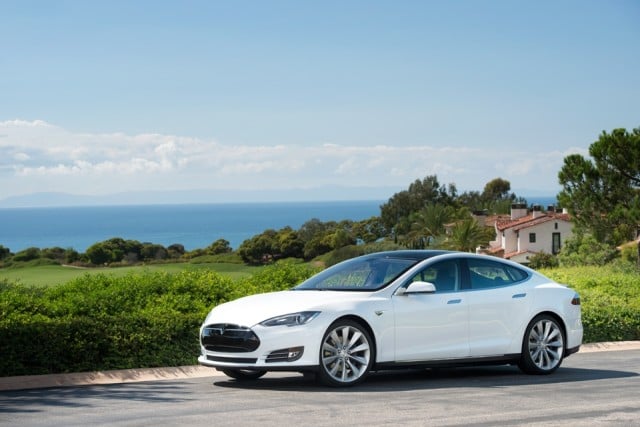 Tesla Motors (NASDAQ:TSLA) CEO Elon Musk has made it clear that his sights are set on Germany, telling car junkies in Munich last week that the country is Tesla's "top focus in the world." The executive sees Germany as a prime target for the marketing of its Model S sedan thanks to the country's base of environmentally friendly citizens, and according to Automotive News, Musk now is aiming to sell around 10,000 cars per year in the country by 2015.
Musk shared the sales goal with a German newspaper over the weekend and told interviewer Wel am Sonntag, "I have confidence in the German consumer." The CEO expects Germany to provide a huge fan base for Tesla, and Musk doesn't show signs that he is is threatened by the country's host of luxury carmakers that have made auto consumers the extravagant buyers they are today.
In order to support the 10,000-vehicle annual sales target, Musk also said to the German paper that Tesla is planning on expanding its networks of charging stations in the country: "Our fast-charging stations should cover around half of Germany by the end of March 2014 and the entire country by the end of 2014."
Musk also expects 25 Tesla dealerships to go up in Germany by the end of next year.
That is no doubt a lofty goal for the Palo Alto, California-based company that only started selling its Model S in Europe in August. However, Tesla has managed to prove its ability to defy all odds — the all-electric sedan even outsold veteran Volkswagen (VLKAY.PK) in September in Norway, making the Model S the best-selling car there for the month.
For now, Tesla is focusing on its goal of selling 21,000 Model S sedans worldwide by the end of 2013, and analysts expect the carmaker to far surpass that number, especially thanks to increased consumer demand in Asia and Europe. The automaker is working to bring its price tag down, as the sedan's base price of $70,000 in the U.S. is still discouraging consumers, but Tesla is confident that the increased adoption of green car technology will eventually help costs drop and eventually facilitate even greater sales success.
As of now, the Model S costs around 71,400 euros in Germany, but Tesla hopes to soon roll out a third-generation electric car that offers a more appealing price point.
Investing Insights: Can Tesla Motors Get Past a Recent Setback and Outperform?