Tesla's West Coast Supercharger Corridor Is Open for Business

We heard it from the CEO himself – Tesla's (NASDAQ:TSLA) West Coast Supercharger Corridor is officially open for business.
Tesla West Coast Supercharger network now energized. Travel from Vancouver to Tijuana in styel! http://t.co/gTvV9egg3K

— Elon Musk (@elonmusk) October 30, 2013
That's right: Tesla announced the opening of its West Cost Supercharger Corridor via an official blog post Wednesday, and the kickoff reflects just one more check on Musk's to-do list as he works to create a Supercharger network that spans the U.S. from coast to coast.
Though the CEO still has a long way to go to meet his final goal, the West Coast Supercharger network now connects a new slew of stations that allow Model S travelers to journey between San Diego, California, and Vancouver, British Columbia — all for free.
According to Tesla's blog post, the Palo Alto, California-based company has erected Supercharger stations that line U.S. Highway 101 and Interstate 5, serving many of the West Coast's main routes, cities, and destinations. The chargers' locations are especially important for West Coasters because these customers make up a bulk of Tesla's consumer base, and now, more than 99 percent of Californians and 87 percent of Oregon and Washington owners are within 200 miles of a Supercharger.
The growing number of Supercharger stations makes it easier for Tesla owners to travel and alleviates the fear that Model S drivers will be stranded if they run out of power. Fortunately, Musk has already helped mitigate that concern by taking his own cross-country road trip earlier this year, proving that long-distance travel via a Model S is possible. However, the new network will still help boost Tesla's appeal and demonstrate that the company is capable of keeping its Supercharger promises.
According to the automaker's blog post, Superchargers are now not only widely available, they're also still the most efficient way to power a Tesla, as they charge the Model S faster than most public charging stations. Tesla said that "Superchargers deliver up to 120 kW Direct Current power directly to the Model S battery, providing half a charge in as little as 20 minutes."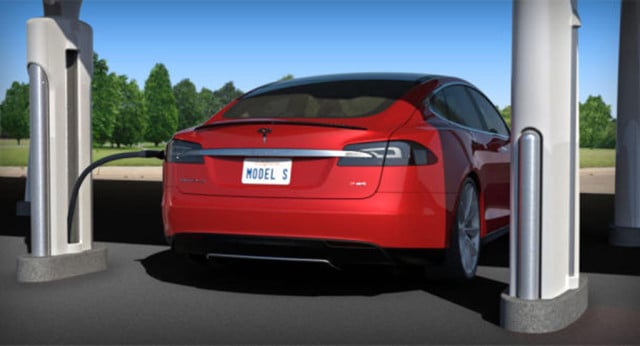 This helps consumers map routes and not waste time charging, because the Superchargers were also placed near popular destinations and rest stops. Pretty soon, they'll populate more than just the West Coast and a handful of other cities throughout the country — the Superchargers will also open throughout the East Coast once Tesla energizes that route.
And according to CEO Elon Musk, that option is coming soon, too.
East Coast Supercharger network should be complete in a few months.

— Elon Musk (@elonmusk) October 30, 2013
Don't Miss: 5 Best-Value Car Leases for Under $400 Per Month.