The Humble EcoBoost Drives Ford to Greatness
While being the proud receiver of the International Car of the Year award is the top accolade for any auto manufacturer, being the creator and producer of the International Engine of the Year is nothing to sneeze at either. More impressively, Ford (NYSE:F) has now been the recipient of this award for the second consecutive year.
The company's 1-litre, three-cylinder, turbo-charged EcoBoost engine was bestowed with the honor for the second time on Wednesday, according to the European arm of the company. It also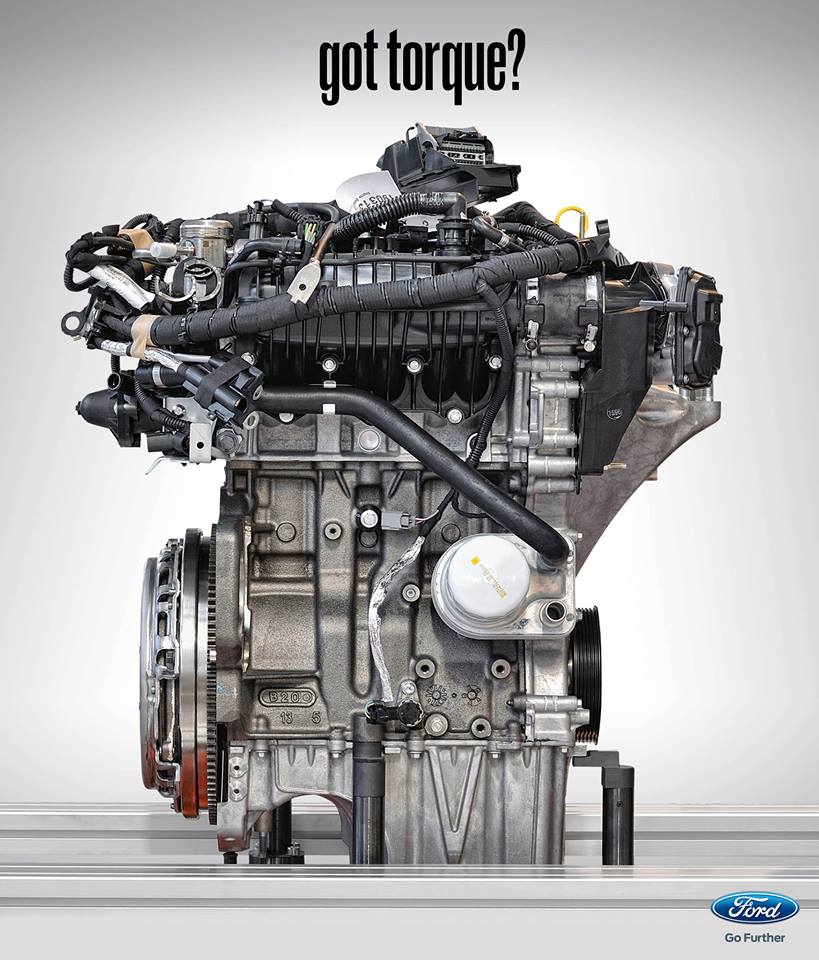 A panel of 87 automotive journalists from 35 countries were charged with finding what they believe to be the world's best engine, and the competitors were then put to a vote. Again, the panel was duly impressed by the 123-horsepower between 1,400 and 4,500 rpm, and 148 pound-feet of torque from 1,400 to 4,000 rpm.
This figure is even more meaningful as the engine unit itself can be stowed in the overhead compartment of an airplane (as Ford demonstrated). The company even boasts that it packs more torque per litre than a Corvette ZR1.
While the single-litre power plant has yet to reach American shores — which it is scheduled to do later this year, dressed up as a Fiesta — Ford has been selling the unit in emerging markets such as India and China, in its new EcoSport compact crossover. The new demand means starting in mid-August, Ford plans to double the assembly volume of the 1.0-liter EcoBoost at its engine plant in Cologne, Germany, to more than 1,000 units per day.
"With a technology as mature as the internal combustion engine, it's very rare to achieve a true breakthrough, but that is exactly what the team accomplished with this engine," Joe Bakaj, Ford vice president of powertrain engineering, said in a statement. "You have to drive it to believe a small three-cylinder engine can deliver such performance and fuel economy."
The EcoBoost is already in widespread use in Europe, where it can be found in the Fiesta, B-MAX, Focus, C-MAX and Grand C-MAX, with additional plans to install it in the Transit Connect, Transit Courier, Tourneo Connect, Tourneo Courier, Mondeo, and EcoSport.
Ford of Europe plans to triple annual production of vehicles equipped with fuel-efficient EcoBoost petrol engines, up to approximately 480,000 by 2015, up from 141,000 in 2011. The company projects that more than 300,000 of these vehicles will be equipped with the 1.0-litre EcoBoost.
Here's how Ford shares have traded so far this year: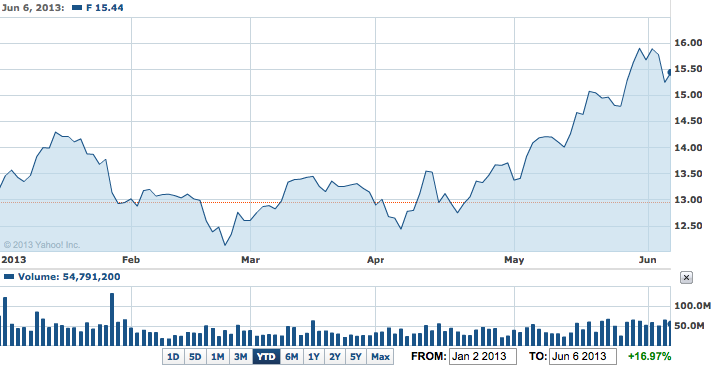 Don't Miss: How Is Ford Focusing on Gaining Ground in China?