After weathering a deluge of reports that knocked the MyFord Touch interface touchscreen system for its ease of use — or lack thereof — and in order to avoid another year of complaints, Ford (NYSE:F) will be adding knobs back to its dashboard, notably for tuning and volume.
Ford was one of the first automakers to install mobile-phone-based technologies, voice recognition, and touch screens in its vehicles. While the touchscreen interface provided a valuable selling point for the cars, Ford's reputation for quality has slumped because of it, and the company is now backtracking to take a more analog route as part of its damage-control efforts.
However, Ford maintains that customers prefer cars equipped with the MyTouch system over cars without, and is expected to release figures that show that 80 percent of its buyers choose Ford vehicles with the Sync or MyFord touch system and that the functions are one of the top reasons customers choose the vehicle.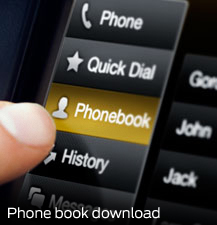 "The satisfaction is higher on the vehicles equipped with MyFord Touch than without," Raj Nair, Ford's global product development chief, said in an interview to The Wall Street Journal. "We've been able to spend a lot of time with customers to find what exactly are the areas that are bothering them."
Nair added that one of the biggest customer complaints is the inability to quickly change the channel or volume on the radio through familiar knobs, and that as Ford redesigns its vehicles, the flat control panels will add more buttons and and more knobs, while the main screen itself will become simpler.
Ford remained mum on when customers can start to see the redesigned system hit retail floors. However, the company did say that all vehicles would be receiving the changes as models are updated, or replaced completely.
One customer, John Kissling, reported that the MyTouch system in his 2012 Ford Explorer would freeze, run slow, and possibly stop functioning correctly overall. As a result, Kissling was forced to reboot the system every couple of months.
Ford has not only gone about redesigning the system, but completely redesigned the way the system is made. The company brought on a panel of engineers and designers to ensure that all the different functions were able to co-exist, and hired human-machine interface experts from consumer electronics companies to perfect the way the system interacts with the user.
Interestingly, the touchscreen problems facing Ford don't appear to be affecting Tesla's (NASDAQ:TSLA) Model S in the same negative way. The Model S sedan eschews the traditional dash setup in favor of a 17-inch, center-mounted touch screen that handles everything from climate controls to navigation. Perhaps it's due to Tesla's demographic — a more tech-savvy, touchscreen-integrated crowd — or the size of its consumer base, which is still fractional compared to the volume of vehicles that Ford moves.
Don't Miss: Will Robots Lead to Safer Cars for Ford?