Toyota Aims High With Its Fuel-Cell Sedan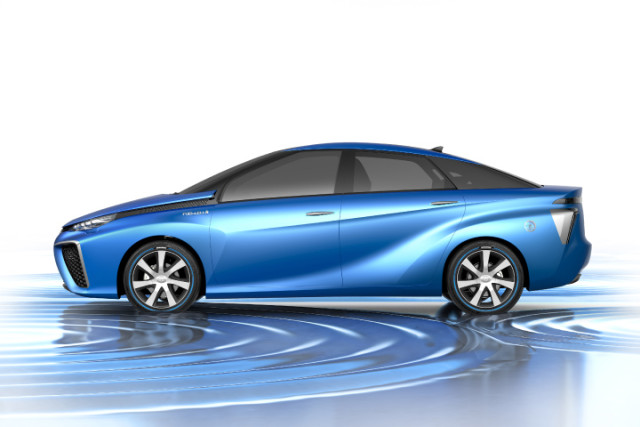 Toyota's (NYSE:TM) plans to have a mass-market hydrogen fuel cell-powered car on the roads by 2015 is ambitious to say the least, but the company has far loftier goals in mind: It's targeting sales of 5,000 to 10,000 units of the car based on the FCV concept annually. The world's largest automaker expects fuel cell vehicles to be price competitive with other zero-emission cars before 2030.
If the goal of having a price point that matches the competition doesn't sound like a very impressive aspiration, here's some context: In 2007, each fuel cell system cost nearly 750,000 euros (close to $1 million). Per vehicle. Toyota now expects the cost of the system to be less than 5 million yen ($49,000 or so) by 2015, or about half the car's price tag. That's still pretty pricey by average car standards, but it's not $1 million per vehicle pricey.
Further, Toyota is counting on the cost of the technology to continue to fall until it's on par with other cars in its size and class. As the vehicles catch on — assuming that they do — and production increases, the economies of scale will slide in Toyota's favor and result in further cost benefits for Toyota and ultimately the consumer.
Toyota research and development executive Soichiro Okudaira said that in the five years, after the 2015 launch, Toyota plans to "further reduce the cost of the fuel cell unit to one-fifth," according to Automotive News Europe. The company hasn't revealed how much a fuel cell vehicle could cost in 2020, though the current data imply an MSRP of about $62,000.
"First we need to simplify the system, then share parts with combustion engines, reduce the use of precious metals and reduce the quantity of material used to build the tank," Tatsuaki Yokoyama, a general manager of Toyota's fuel cell system engineering division, told Automotive News Europe.
Upon its release, the sedan — which will be based on the FCV concept that has been making the rounds at auto shows worldwide — will see dealer action in Japan, North America, and Europe.
Don't Miss: 5 Most Expensive Cars Auctioned Off in 2013.