Toyota Answers Competition with This New Corolla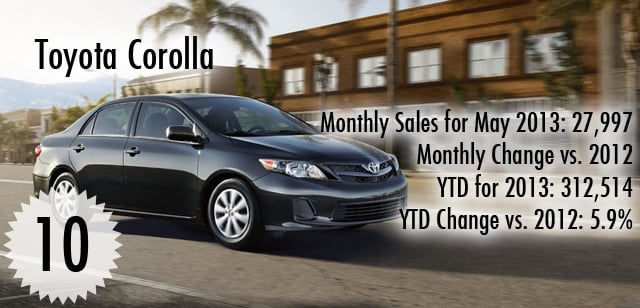 Is there anything more reliable — what some would say reliably boring — than a Toyota (NYSE:TM) Corolla? Acknowledging the beauty of its simplicity, Toyota nonetheless is rolling out a new version of the Corolla for 2014 to compete with roomier, more stylish, and more efficient competitors as the sales of Corollas begin to slow across the world.
Ostensibly, there isn't anything wrong with the performance of the Corolla. It was the biggest selling compact car in the United States for 10 years straight before being knocked off the podium last year by the Honda Civic. The Corolla has also been Toyota's signature car and the world's best-selling vehicle nameplate before getting squeezed by the Ford (NYSE:F) Focus in 2012 (that judgment is still being reviewed). However, Toyota brass can see the writing on the wall and hopes to keep loyal buyers as well as open up its customer base.
"It really helped identify the company, and the brand, and what we're all about," said Bill Fay, group VP of Toyota U.S.A., speaking of the Corolla. Of the 2014 model, Fay explained exactly what the company was seeking. "We should appeal to a little younger buyer and broaden out the appeal." Among the changes in place to attract this audience are a roomier back seat, bolder styling, and better fuel economy, the last of which some would say is surprising for a Toyota.
Yet Toyota has kept the Corolla at 34 mpg on the highway while the Civic gets 39 (the Focus can get 40 mpg). Toyota execs knew that had to change, as well as the cramped feeling passengers were getting in the back seat. Though it is a compact car, Toyota realizes that modern versions do more, given advances in engine and transmission technology. The 2014 Corolla will have an extra four inches of space with the lion's share going to the back seat. It is borrowing design elements in the headlights and grille from the Hyundai Elantra and Focus as well as upping the horsepower in some models.
With a larger frame, slight increase in horsepower and a bolder look, will Toyota be alienating its legions of customers who expect its version of reliability to be boring? That's unlikely, says Polk analyst Tom Libby. "The propensity of a Toyota owner to stay with the Toyota brand is pretty high relative to other makes," Libby told the Associated Press.
Don't Miss: Small Vans Mean Big Business For Ford and GM.