Toyota Fatality Trial: Day 1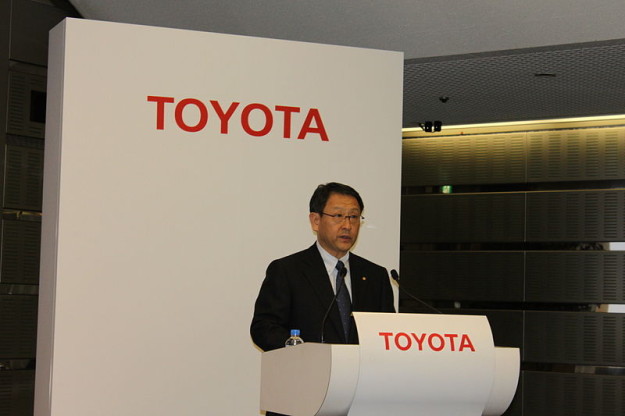 On Thursday, Toyota (NYSE:TM) went before a jury for the first time regarding a death allegedly caused by the unexpected acceleration of one of its cars. The lawsuit, which was filed by the husband and the son of a woman who died in the crash, could be an indicator of what is to come — depending on how this case is resolved, others may be ended through an out-of-court resolution.
The 2009 through 2010 recall of 16 million Toyota, Lexus, and Scion vehicles, which came after the company received "several complaints of alleged sticking accelerator pedals," changed the public's perception of the Japanese automaker. Its reputation for quality was dented as well as its 30-year unbroken run of market-share increases in the United States. A congressional hearing was held and Toyota doled out $1.1 billion to settle a class-action lawsuit with $1.63 million to settle economic-loss allegations. Now, its facing a total of 85 personal-injury and wrongful-death acceleration cases, which have been consolidated in a Los Angeles court.
The husband and the son — Yasuharu and Jeffrey Uno — said that Toyota is liable for the death of Noriko Uno because it did not install a brake override system in her 2006 Camry, reported Bloomberg. According to court papers acquired by the publication, Garo Mardirossian, the family's lawyer, said Uno's fifth-generation Camry had the most reported unintended-acceleration claims. In fact, claims were 400 percent higher for her vehicle than the previous generation.
"Toyota knew this," Mardirossian wrote. "Toyota did nothing to remedy this. Rather, it recalled and added brake override to the 2007 Toyota Camry, but left Mrs. Uno's Toyota Camry on the roadways unsafe and without brake override."
Toyota recalled more than 10 million vehicles worldwide between 2009 and 2010 to check for stuck accelerators or floor mats that shifted out of position, two causes of the unintended accelerations.
In court documents, the family of Noriko Uno, who died in August 2009, detailed the circumstances of the crash. When hit by a vehicle that had just run a stop light, Uno's Camry spun and her foot got stuck between the gas and brake pedals, according to Bloomberg. As a result, the car accelerated out of control, and, after about half a mile, her car struck a tree after she swerved to avoid oncoming traffic.
The fact that her food got stuck was an important point for the defense. "This is not a stuck-pedal case," Toyota's lawyer, Vince Galvin, argued in his opening statement, covered by Bloomberg. "It's an alleged stuck foot case." Expanding upon that difference, he said the claim that Uno's foot had been stuck between the gas and the brake pedals, which caused her to accelerate even though she tried to brake with her left foot, is not possible. Her Camry was not recalled and was a safe vehicle, as Toyota had advertised, the lawyer stated. Uno's car went out of control, traveling down the wrong side of the road for 30 seconds, because she was stepping on the gas rather than the break, he concluded.
"There's no reason an alert driver could not control this vehicle," Galvin said.
However, Mardirossian told jurors that a brake-override system had been installed in 2006 Camrys sold in Europe. That system causes the vehicle's engines to idle when both the brake and the gas pedal are pressed simultaneously.
Toyota said in its court filing that a brake-override system would not have changed the outcome because there was no substantial evidence that she tried to brake. "Approximately 14 witnesses observed Uno as she travelled in the wrong direction," Toyota said, according to Bloomberg. "Thirteen witnesses testified they never saw brake lights on the Camry, and the only witness who said she saw brake lights, said she saw the Camry brake lights go on for a second then off, then on and off again."
Uno's family is seeking $20 million in damages.
Follow Meghan on Twitter @MFoley_WSCS