Toyota: Made in America (?)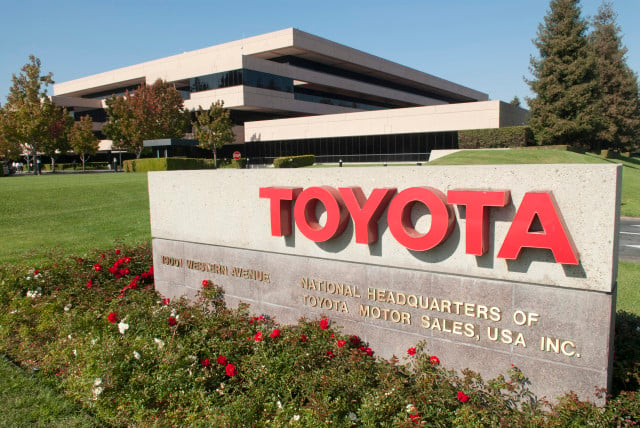 These days, consumers see "Made in America" promises everywhere. Toby Keith, Demi Lovato, and others have long clogged the radio singing their praises of the red, white, and blue — but now, many businesses are too, and they do it to demonstrate their commitment to the U.S. economic recovery.
Several automakers and big-name retailers have taken on the responsibility of leading the American renewal its in own manufacturing, and while their efforts haven't gone unnoticed,  it's also now becoming clear that U.S. companies aren't the only ones committed to building in the USA. Recent reports illuminate that foreign ones are, too, and that includes one of the U.S. automakers' biggest rivals: Toyota Motors (NYSE:TM).
According to a CNBC report Thursday, the world's largest automaker has announced that it is increasing the number of vehicles it chooses to build in the U.S. while continuing to export to its other countries. Toyota, headquarted in Japan, has always produced in its home country along with its handful of outside plants, but the automaker has caught the attention of analysts recently as it makes significant strides to increase its presence on American soil, and the current state of the Japanese yen also likely has something to do with that.
While Toyota exported more than 124,000 vehicles from the U.S. to 23 countries in 2012 — a 45 percent increase from 2011 — it now expects to produce even more in the coming years as it continues to ship out to its consumers. According to CNBC, Toyota now officially recognizes the U.S. as an export hub, and expects to take more than 7,500 Corolla models build in Tupelo, Mississippi, and ship them to 21 countries in Latin American and the Caribbean.

Toyota's new initiative certainly has an impact on its American rivals, Ford Motor (NYSE:F), General Motors (NYSE:GM), and Chrylser, but they, too are shipping more models from America to foreign countries, and regardless of who the company may be, the increased presence on America soil means good things for U.S. workers and the economy in general.
As the Big Three continue to battle Toyota and fight for its status of world's largest automaker, they will at least know that their rival is never far — and maybe its creeping presence on U.S. territory will even ignite a new spark in them for continued U.S. automotive success.
Don't Miss: Tesla Goes Full Rental