Toyota May Join the Diesel Pickup Fray
Beginning next year, the light-duty pickup market is going to be even more intensively competitive than it already is, as major automakers deploy new weapons to fight for every bit of market share. Ford's (NYSE:F) aluminum F-150 has been well publicized, while Ram's (FIATY.PK) 1500 EcoDiesel currently holds the record for fuel efficiency for the segment, with an impressive 28 mile per gallon EPA highway rating.
But for 2016, a Toyota (NYSE:TM) Tundra and renewed Nissan (NSANY.PK) Titan will be making buyers' choices more difficult (the latter vehicle, however, is slated for the 2015 model year), as each will come with the option of a 5-liter Cummins turbo-diesel engine, reportedly boasting more than 300 horsepower and 500 pound-feet of torque. Both trucks will use the same unit, Auto Guide reports.
That's noticeably more than the Ram's 240 horsepower and 420 pound-feet of torque, but it will be interesting to see where the new units fall as far as efficiency is concerned. It's clear that the Cummins power plant is aimed more at bridging the gap between light-duty and heavy-duty pickups, rather than the gap between smaller midsize pickups like Toyota's Tacoma and the light-duties.
However, diesel is making inroads in the smaller segment, too, led by General Motors' (NYSE:GM) forthcoming GMC Canyon and Chevrolet Colorado. Like the Titan and the Tundra, the diesel variants will be hitting showrooms for the 2016 model year. Nissan recently teased a diesel-powered Frontier at the Chicago Auto Show, but that's a ways off if it gets the green light.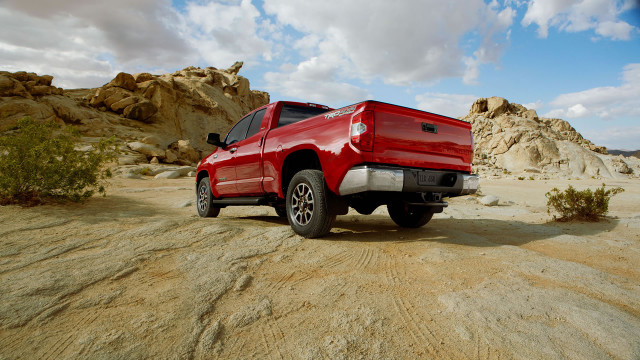 Diesel could see a fairly significant change to the pickup product mix, as it has the potential to offer truck owners better fuel economy, coupled with higher torque ratings for improved towing and tugging capabilities. Ford has no such plans in place to put a diesel in its F-150, instead relying on weight savings from its extensive use of aluminum over steel.
It's also unclear whether Chevrolet has plans to put a diesel in its Silverado line, though the Ram EcoDiesel and the Toyota and Nissan — once they hit the market — appear to be serving as a thermometer to read the temperature of demand for diesel light-duties.
More from Wall St. Cheat Sheet: