Toyota Settles Accelerator Suit With Mississippi and 3 Auto Stocks Making Headlines Now
Ford Motor Co. (NYSE:F): Current price $12.96
European Union auto sales have sunk to the lowest level for any month of January, with Ford and Peugeot posting the largest drops as economic contractions in the southern part of the region have now spread to Germany and France, according to Bloomberg.

General Motors Company (NYSE:GM): Current price $27.58
Former Chief Executive Ed Whitacre said that the company is on the right path and that its losses in Europe can be repaired, says the Detroit News. Whitacre admitted that he does not follow GM's daily moves, but did say that it has made "remarkable progress" and allows the current management much credit for that.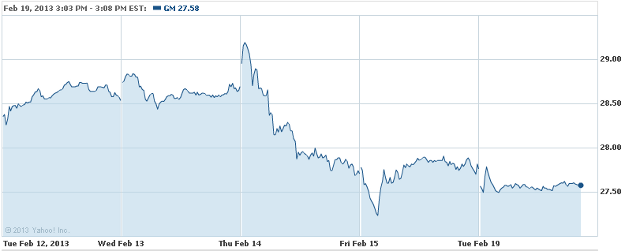 Toyota Motor Corporation (NYSE:TM): Current price $102.43
Mississippi Attorney General Jim Hood says that Mississippi will receive around $561,288 in a multi-state rsolution with Toyota related to  problems with accelerator pedals. Hood says the state will be getting a portion of a $29 million pot split among 29 different states and American Samoa.

Honda Motor Co. (NYSE:HMC): Current price $37.69
Honda launches the first two motorcycles of its new CTX (Comfort, Technology and eXperience) series. The 2014 CTX700 and its siblings (CTX700N, CTX700D, and CTX700ND) are variants of the company's 2012 NC700 model, which was created mainly as reliable, inexpensive bikes for new riders.

Don't Miss: Did Homebuilders Just Receive a Reality Check?