Toyota's Lexus Line Earns its Stars & Stripes and 2 Auto Stocks Going Places
Toyota Motor Co. (NYSE:TM): The parent company of Lexus is announcing that for the first time in the luxury company's history, vehicles will start being manufactured in the United States. The state of Kentucky has offered the company $146.5 million in tax breaks to build the cars at its Georgetown facility, where it is said to begin building the Lexus ES model beginning in 2015. Currently, the model is only built at Toyota's Kyushu plant in Japan.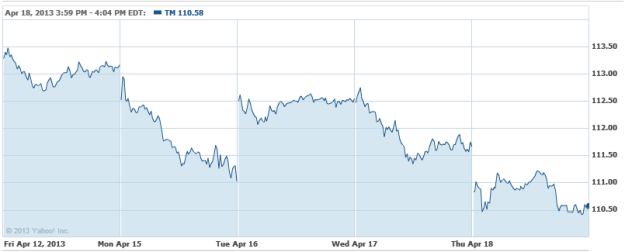 Ford Motor Co. (NYSE:F): Ford has surpassed an impressive milestone. The Mustang, Ford's flagship sports car and all-around icon of the American muscle culture born in the 60s, celebrated its 49th birthday yesterday, and in time for the festivities, the millionth Mustang from the Flat Rock plant was there to see its birthday. Not the millionth Mustang built total, that happened in Dearborn in 1966. Total, the company has produced over 8.5 million Mustangs, and while demand has slowed recently, new models have been reigniting interest in the symbolic car.

Tesla Motors (NASDAQ:TSLA): Given that Tesla's Model S sedan is such an exclusive car still, there aren't many places one can bring it, meaning owners needing repairs or service will likely need to bring it to one of Tesla's stores, strategically scattered around America's most common urban areas. Normally, this is where you are issued a loaner car to use while yours is getting tuned up, and Tesla is raising the stakes here, too. Soon, Tesla owners won't have to trade down for a loaner, as the company is prepping 80 Model S sedans to use as loaner vehicles nationwide. Not only will you be issued the top-of-the-line model with a 265 mile range, but the company will bring it to your house, or office. As efficient and convenient as the program will make routine shop stops, CEO Elon Musk credited Lexus for inspiring the idea.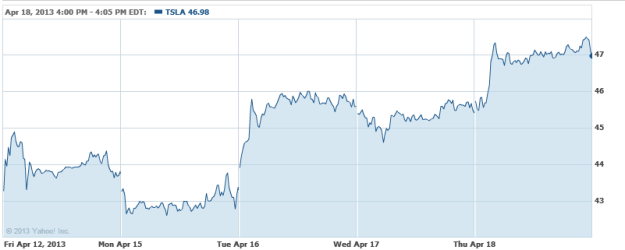 Don't Miss: Will Ford's Mustang Be America's Darling Once Again?