Toyota's New Mantra: Quality Over Quantity
Toyota Motor Corp (NYSE:TM) is looking to go back to the basics, even if it that means a decrease in its market share.
While the third best-selling carmaker in the United States saw its peak in 2009 when its share hit 17 percent, the auto company's senior managing officer, Jim Lentz, believes its market share will only earn 14 to 17 percent in the future, Reuters reports. And that is because Toyota is returning its focus to improving quality rather than aggressively expanding sales. Though the company has seen a growth spurt in the past decade, it has also had to manage a recall crisis from 2009 to 2010 that encouraged it to return to its traditional focus on quality and cost cuts.
Toyota's share for the five months to May was 14.2 percent. Lentz expresses assurance that things will continue this way with shares ranging from 14 percent to just below 17, explaining, "I think we had some tailwinds that were very, very unique, so I'm not sure if 17 percent is a realistic number…But somewhere between today's 14 (percent) and that number, I think we will continue to grow."
The Japanese automaker's story has been unique in that its success peaked just as its American rivals, Ford Motor Co (NYSE:F) and General Motors Co (NYSE:GM) were facing the prospect of bankruptcy following the global financial crisis. Its U.S. share has since come down since its 2009 apex, but now, the company's president, Akio Toyoda is committed to resetting the automaker's focus on what his grandfather established at the auto company's founding. And that is quality.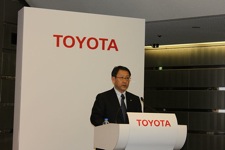 He enlisted Lentz's help in April, naming him the CEO of Toyota North America, which marked the first time an American has ever headed the carmaker's North American business. Lentz contends that the Japanese automaker is on target to sell 2.2 million vehicles in the U.S. in 2013.
Don't Miss: Ford's Focus EV: Nothing But a Niche Product?