Toyota's Next Prius May Be Hydrogen-Fueled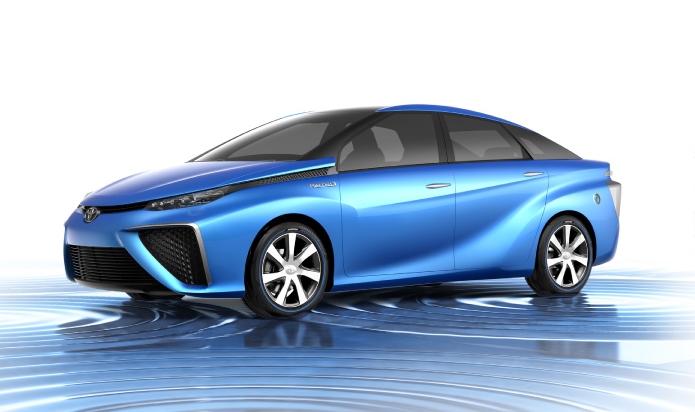 By now, Toyota's (NYSE:TM) big plans for hydrogen fuel cells are well known industry wide, driven home by the company's unique looking fuel-cell vehicle prototype that it has been towing along to various automotive shows and events (pictured above). However, what is still rather unclear is Toyota's intentions to have the hydrogen-powered vehicle ultimately carry on the Prius namesake, which has been built on the company's winning hybrid powertrain.
Bill Fay, Toyota's marketing executive, said that the company is "weighing whether to include its pending fuel cell sedan into the Prius family," Hybrid Cars reports. Toyota has done an admirable job at marketing the Prius as a sub-brand, with four models across the range. Moreover, the beating heart of the Prius — Toyota's Hybrid Synergy Drive — is found in every hybrid that Toyota produces, including in its Lexus division. "We haven't totally decided on a name, but it'll be interesting to see if we can leverage the Prius name or not," Fay said during an interview with AutoGuide.com. "We've been debating that a lot within the company."
"People equate Prius to a lot of things, it has a positive name out there regarding technology, innovative products and environmental friendliness," he noted. "Fuel Cell is a little different, but we've done some work to see if we can leverage the Prius brand and use it with fuel cell technology, or if the car will have a different name."
Fay added that the Prius brand means a lot to customers, and a fuel cell vehicle could fit right in — so at least we know where he stands. But the company has yet to make a formal decision, despite some parallels that Fay drew to Toyota's best-selling hybrid.
"Potentially, it really has a lot of positives similar to the Prius. When we launched the Prius over ten years ago, everyone was like 'what is this thing?' and now we've sold five million hybrids," said Fay. "We're very positive about the potential of the vehicle, primarily because it has zero emissions, it has outstanding range and takes only a couple of minutes to fill up the hydrogen tank," he continued.
This would imply a national network of hydrogen fill-ups, one of the many daunting tasks that Toyota must tackle if it hopes to succeed in having a mass-production hydrogen fuel-cell car on the roads.
Don't Miss: Who Does GM Expect to Buy the Cadillac ELR?